Description
Advantages of SnowySkn™ Plus
Increase skin hydration and moisturization
Lighten dark spots and blemishes
Brighten skin complexion
Soothe inflammation
Boost collagen production
Smooth wrinkles
Promotes heart health
Improve blood microcirculation
Viqua® Pomegranate Extract
Unlike any other fruit, pomegranates contain exceptionally high levels of wholefood antioxidants. Punicalagins are extremely potent antioxidants found in pomegranates. Viqua Pomegranate Extract is a perfect blend of beauty-enhancing substances – including Vitamins B1, B2, C and Niacin, minerals, Aspartic Acid and a wide range of Polyphenols. The secret to Viqua's efficacy lies in its patented ADS® nano-technology delivery system. This system allows for mitochondrial-level cell penetration and so most effectively protect and repair the skin. Viqua is a clinically-tested whitening and anti-ageing solution. Viqua's effectiveness in oral form has been thoroughly tested in a double-blind clinical trial. 30 volunteers aged between 30 and 55 took Viqua over 4 weeks, and each reported noticeable benefits to the skin.
Improves skin hydration +40%
Skin roughness decreased by -31%
Smoothness increased by 27%
Whitening of skin tone and reduction of dark spots
Reduction of inflammation
Skin roughness decreased by -31%
OPITAC™ Torula Yeast Extract
OPITAC™ Torula Yeast Extract consists of 98% glutathione – a tripeptide formed from glutamic acid, cysteine and glycine, and naturally produced by the body. OPITAC™ is the world's only glutathione that has been notified to the U.S. Food and Drug Administration (FDA) as GRAS (the indication of safety as a food ingredient).
OPITAC™ is derived from torula yeast (candida utilis) as a product of its natural fermentation process and it is also approved by the U.S. FDA as edible yeast.
OPITAC™ – Beauty From Within
OPITAC™ high concentration of glutathione is clinically proven to make skin brighter, lighter, and generally improve its appearance. OPITAC™ inhibits the activity of tyrosinase, in turn, suppressing the development of eumelanin. At the same time, it disrupts the synthesis pathway of pheomelanin. This enhances protection against UV damage provided by topical skin care products (supplements and cosmetics) and reduces the appearance of dark areas.
OPITAC™ makes skin appear healthier & suppler, by accelerating the production of type I collagen. Unlike other, topical treatments, the mechanisms of those with OPITAC™ work at the molecular level, neutralizing free radicals in the system, scavenging heavy metals, and defending against environmental pollution.
Acerola Berry Extract
Acerola berry extract is derived from the fruit of the West Indies or Barbados cherry variety which grows from a small tree or shrub. It is a potent source of antioxidants and hydrating polysaccharides, some of which have been shown to protect fibroblasts in skin from suffering oxidative damage, which in turn leads to younger-looking skin.
Acerola is a rich source of natural Vitamin C. Unlike synthetic ascorbic acid, natural vitamin C is a complex of several naturally occurring elements synergistically present and bonded to provide the complete beneficial effects of vitamin C.
Complete vitamin C is composed of many co-factors such as bioflavonoids, rutin, Factor J, Factor K, Factor P, Tyrosinase, Ascorbinogen, Ascorbic acid and other components. Each of these is vital to the complete biological activity that enables vitamin C to function fully.
Grape Seed Extract
Grape Seed Extract contains proanthocyanidins and resveratrol, as well as other powerful antioxidants. It contains 20 times the antioxidant power of vitamin E and 50 times the antioxidant power of vitamin C.
Grape seed extract may protect your skin from UVA and UVB radiation (Sun) damage which can range from wrinkles to pigment changes and skin cancer. The antioxidants found in grape seed extract help your skin fight free radicals and protect the skin from its harmful effects.
Grape seed extract increases cell turnover and collagen synthesis which helps your skin stay elastic and stay healthy. It also makes your skin softer and more elastic. It improves your skin's moisture, softness and elasticity by helping vitamin C and vitamin E in the skin to be more effective and efficient at preserving your skin.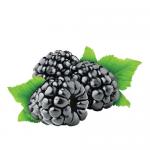 Blackberries are a low-carbohydrate fruit that is a nutritional powerhouse. Its deep purple hue increases their antioxidant power. Blackberries are an excellent source of fiber and vitamin C, and contain a full day's allowance of manganese.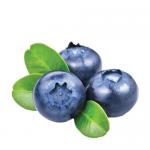 Blueberries contain a plant compound called anthocyanin. This gives blueberries both their blue color and many of their health benefits. Blueberries can help heart health, bone strength, skin health, blood pressure, diabetes management, cancer prevention, and mental health.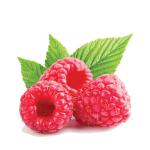 Raspberries contain strong antioxidants such as Vitamin C, quercetin and gallic acid that fight against cancer, heart and circulatory disease and age-related decline. They are high in ellagic acid, a known chemo-preventative, and have been shown to have anti-inflammatory properties.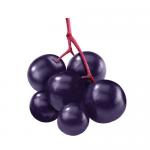 Elderberries contain high levels of antioxidant bioflavonoids and very high amounts of the polyphenol anthocyanin, which give them their dark color. Chemicals in both the flowers and berries may help diminish swelling in mucous membranes like sinuses and help relieve nasal congestion
Testimonials
---