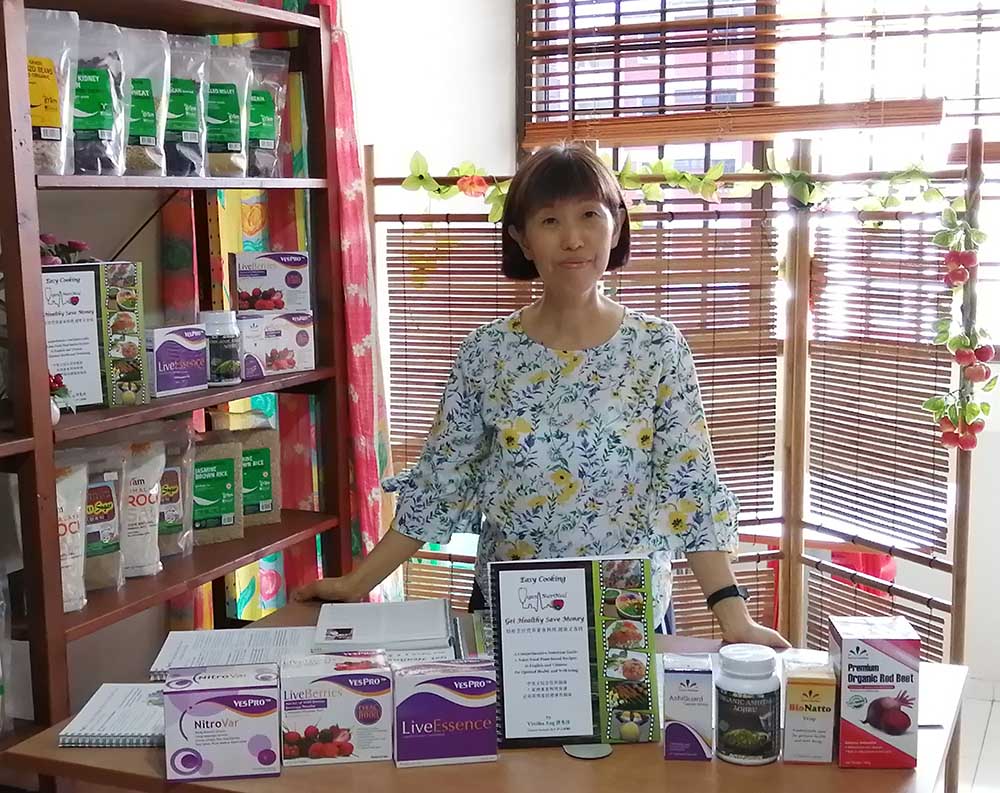 Vinitha is a Singapore-based Wholistic Health Practitioner, former nurse turned chef who provides the following health consultation services:
To live well and age healthily.
To achieve sustainable healthy weight management.
To manage illnesses naturally without depending on medication.
To prevent or manage 3 highs using whole food nutrition.
To boost immunity and health status pre and post operation / pre and post cancer treatment.
To improve blood count level during chemotherapy to avoid treatment interruption.
If you also have other health problem or nutritional concerns, feel free to chat with Vinitha for advice. Contact her @ +65 92368402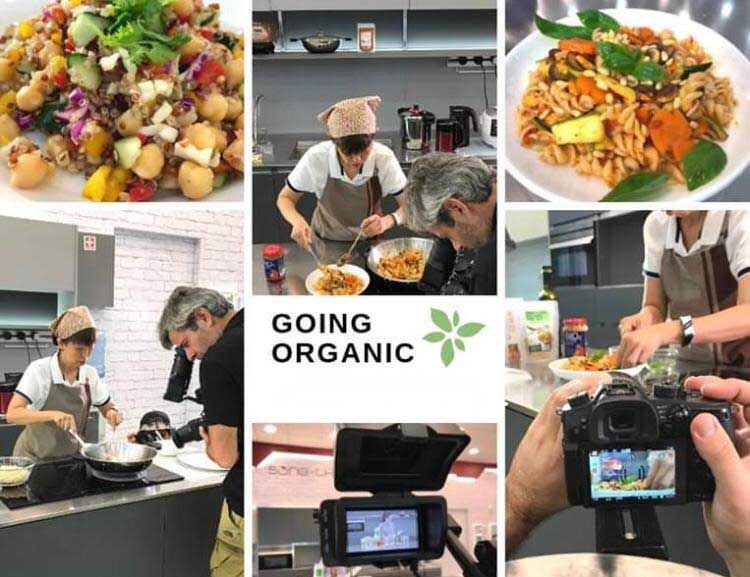 Vinitha Ang is a registered nurse with more than 20 years of experience in the healthcare industry and more than 10 years in wholistic health practice. She is also trained in Nutrition & Psychology with a Master's degree in Healthcare management.
Having nursed her parents thru' their battle with cancer and witnessed the suffering of patients while working in the Cancer Centre, she decided to leave the hospital in 2007 to embark her journey into Wholistic Health practice. With a strong family history of cancer, she does not want herself to be trapped in the dilemma of "To Treat or Not to Treat!" Hence, she is determined to heal herself, and now healing others thru' wholistic health practice.
Having treaded the path to recovery and filled with passion to share with others, in 2008 she started a Vegan Cafe with organic retail business and operated it for 5 years. Since then, she has been using Dynamic Nutrition's whole food supplements for herself and her family as well as introducing to her customers with good response.
To achieve better result, they follow her advice and incorporate plant-based whole food in their diet. Due to the pureness of its ingredients, and with proven track record backed by scientific studies, Vinitha is confident in using Dynamic Nutrition's whole food supplements for health maintenance and health remedy.
With her medical & nutrition knowledge plus NutriMeal culinary skills, she is capable of providing Personalised Consultation service with Meal planning, Nutrition & Health advice to individual / patients and their caregivers. Many of them have regained their health under her care. In June 2019, she published 2nd edition of her Cookbook with 95% bilingual text, title : "Easy Cooking Vegan NutriMeal Get Healthy Save Money" – A comprehensive Nutrition guide + Asian food plant-based recipes for Optimal Health & Well-being.
This book also aims at creating awareness on what we eat not just affects our Health, but also affects the Environment and influence Climate change. You may view more in her website.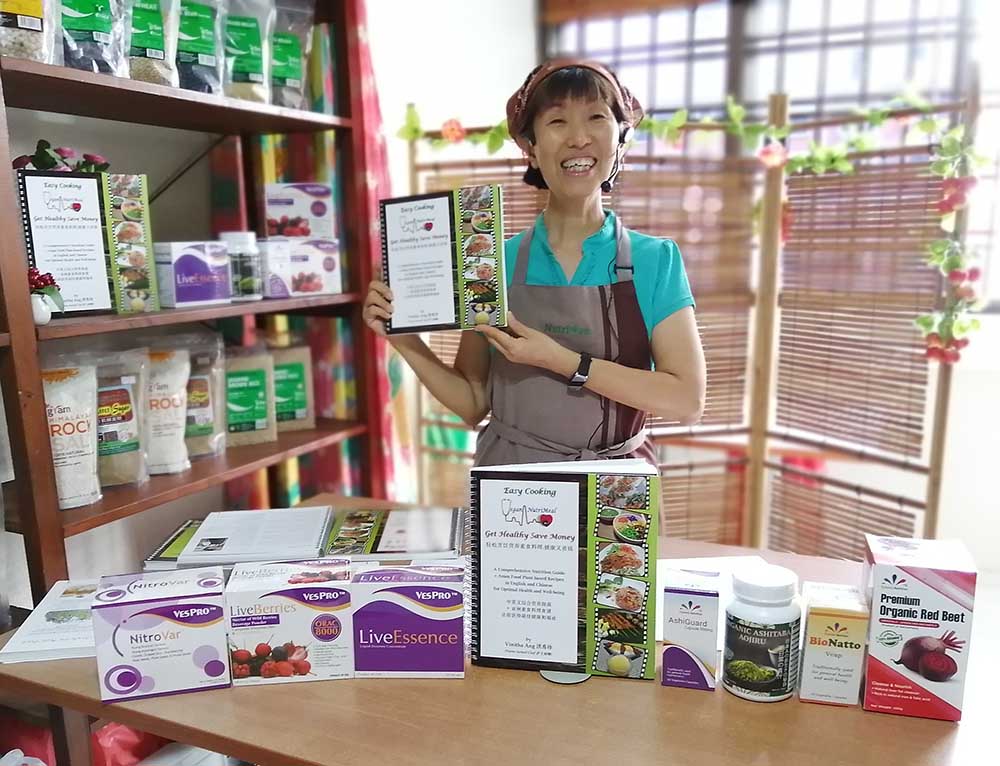 See What Her Customers Said
I was scheduled for a surgery last year. Due to my many concerns, I sought advices from Vinitha. Without any second thought, she provided me with a list of what to and not to eat prior to and after surgery. It was very assuring to know that the health and nutrition provided come from an experienced ex-nurse and health cum nutrition guru. Prior to surgery, which was due in a month's time, I managed to improve my immunity and increased blood count. These were my 2 main concerns and had given me undue stress.
After surgery, I did not feel any pain, thus did not utilise any painkiller which was a surprise to the doctors and nurses. Vinitha continued to provide me due advice when I complained about post-op bloatedness.
During the six weeks recovery, Vinitha continued to show her concerns and provided appropriate advices on after-op care and diet. My recovery rate was fast, so much so that within 2 weeks of surgery, I was able to do my cooking and seated-on-chair meditation.
Am grateful for Vinitha's prompt and expert advices prior and through until my full recovery. Compared to my other company staff who had the same surgery and who had complications, my surgery and recovery was smooth sailing and painless. Had also gained knowledge on plant-based food diet and learnt to incorporate and prepare healthy meals.
With Vinitha's professional health and diet advices, my overall health has improved. Used to have low immune system and down with illnesses every other month, either from flu or sore throat. Blood count was also low.
Within 1 month of following diet advices, blood count increased from 9.6 to 13. Immunity improved and for the past 6 months, I have not fallen ill.
Started with a 1 to 1 session with Ms Vinitha. She shared with us many info and answered our queries even our session has ended. Her follow ups on my FIL's condition were very prompt, advising new meal plans after every checkup. She's always there for you whenever you need advice from her. Her recipes are easy to follow and taste good!
Vinitha has been a great support during my tough times. She gave valuable tips on diet and how to restore immunity. I appreciate her care and consultation.
Before consulting Vinitha, I was very weak and lethargic, appetite poor and coughing very often. Although I am a vegetarian for many years, but may not be eating healthily.
She customized the Meal Plan for me which was tailored to my medical condition and to
boost my immunity. She also trained my helper the right way to prepare my food, and using her food reference list for marketing.
After 2 months on this whole food plant-based diet with nutritional supplements, I managed to put on 2 kg, appetite improved, less cough, more energy. Even my doctor is happy that my kidney function improved.
Now, already past 6 months, my condition get better and better day by day.
I am grateful to Vinitha for helping me to regain my health. She really does more than just a "Florence Nightingale" (founder of modern nursing).
Facebook Comments