Computers and mobile phones are the tools that we use everywhere, every day. Almost every modern person's life is inevitably linked to a computer or mobile phone: teachers use computer-based presentations while the students use computers; white-collar workers use computers for reporting purposes. CEOs too must also rely on computers and mobile devices to send and receive emails and constant n touch with co-workers. Back at home, we use a mobile phone or tablet to surf the Internet, watch a movie, or play games also becomes an indispensable entertainment activity for many people every day. Mobile electronic devices are increasingly connected with modern people's lives.
Computers, mobile electronic devices are sources of free radicals that we often come into contact with. Free radicals affect people's health, especially for office workers who need to face computers and mobile phones daily. Sometimes they will feel dry eyes and the skin is not shiny. How can the office worker protect against free radicals?
What is Free Radical?
Firstly, let's find out what is a free radical. A free radical is defined as any molecular species capable of independent existence that contains an unpaired electron in an atomic orbital. The presence of an unpaired electron results in certain common properties that are shared by most radicals. Many radicals are unstable and highly reactive. They can either donate an electron to or accept an electron from other molecules, act as oxidants or reductants. Free radicals attack important macromolecules that lead to cell damage and homeostatic disruption. Lipids, nucleic acids, and proteins are the major targets of free radicals in the body.

Methods to prevent free radicals from computers and mobile phones:
1. Use Notebook to Work is Better than Desktop
According to a dedicated study, studies have shown that desktop computers have much more radiation than laptops. Laptops are also more shielded from radiation than desktop screens. Therefore, in order to effectively prevent computer radiation, conditional office workers can choose to use a laptop in the office.
2. Use Computer and Mobile Phone Properly
Using a computer and mobile phone properly can reduce the damage of free radicals as well. It is recommended to keep a certain distance 50-70 cm with the computer and mobile phone. Take rest after use for every two hours to relieve fatigue.
3. Keep a Plant Next to the Computer
You can plant Devil's Ivy or cactus at the computer desk. The green colour not only effective to relieve visual fatigue, but also prevent ultraviolet radiation and purify the air at the same time.  
4. Wear Radiation Protection Suit, if You Work in a High Radiation Environment
Radiation protection clothing is one of the effective methods to prevent electromagnetic radiation. It is a method of shielding electromagnetic radiation through the principle of metal conduction. There are in many styles such as the radiation protection apron, radiation protection harness and so on. These all can fulfill the needs of different people. Moreover, after the radiation suit is put on, more than 99% of the electromagnetic radiation can be shielded and the harm of the electromagnetic radiation to the human body can be reduced.
5. Antioxidant Supplements
Antioxidants protect body cells from the damage caused by free radicals. They repair the cells that have been damaged by free radicals. While free radicals are produced by body cells when they are exposed to oxygen, which results in oxidation. Antioxidant supplements help to fight against oxidation and reverse the damaging effect of an oxidized cell.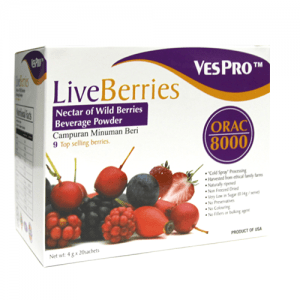 VesPro LiveBerries is a delicious berry fruit beverage using 9 different types of whole berries formulation. It is an excellent source of whole food antioxidant and polyphenols, which can contribute to many beneficial effects to your health. Each serving is equivalent to 1.5 cups of fresh antioxidant-rich berries,  providing standardize ORAC 8000 TE per serving. (Brunswick Labs (USA) certified).
Our berries are planted in small, old-fashioned American family farms who still proudly practice ethical farming and harvesting methods. Only the finest home fermented compost and natural insecticides such as wood vinegar are used in their cultivation.
Find out VesPro LiveBerries here!
Facebook Comments