Every woman will experience menopause. Menopause is the time when a woman stops having menstrual periods. A complex series of hormonal changes causes Menopause.
At the time of birth, most females have about 1 to 3 million eggs, which are gradually lost throughout a woman's life. By the time of a girl's first menstrual period, she has an average of about 400,000 eggs. When in menopause, a woman may have fewer than 10,000 eggs.
How Long Does Menopause Last?
Since a woman reaches menopause at the point in time at which she has not had a period for 12 consecutive months. Menopause is not a process, but represent a point of time when menstruation stops. Women have either reached this point (post-menopausal) or not yet (pre-menopausal or perimenopausal).
Signs and Symptoms of Menopause
A hot flash is a sudden sensation of heat in the upper part of the body. It may start in the face, neck, or chest, and progress upward or downward.
The skin may become red and patchy, and will typically start to sweat. The heart rate may suddenly increase, strengthen, or become irregular. Hot flashes generally occur during the first year after a woman's final period.
A woman can experience depression and low mood during menopause. Hormonal changes can often trigger depressed feelings, mood swings and even sleep disturbance. She may also experience low libido as a result of emotional changes.
Menopause causes the tissues of the vagina and urethra to lose their elasticity. This result in frequent, sudden, and overwhelming urges to urinate.
Menopause may cause changes in the shape of the breasts.
A woman may lose bone density rapidly during the first few years after menopause. Low bone density leads to a higher risk of developing osteoporosis.
Cholesterol profiles change significantly at the time of menopause. Total cholesterol and LDL "Bad" cholesterol levels increase and associated with an increased risk of heart disease.
A three-year study of healthy women nearing menopause found an average gain of five pounds during the three years. Hormonal changes and aging are both possible factors in this weight gain.
Nutrients for Menopause
There are some foods that are great for women's health and reduce or prevent menopause symptoms.
When a woman enters menopause, the body produces less estrogen. The lack of estrogen increases the risk of osteoporosis. The calcium not only function for bone health, it also keep blood, muscles, and nerves function well. Sources of calcium include dairy products, multi-grains, green leafy vegetables and soy products.
Carbohydrates provide the energy and fuel the body needs. A balanced, menopause diet should include whole grain cereals, wholemeal pasta and starchy vegetables (sweet potato) that are high in fibre and essential vitamins.
Protein is important for women to consume as part of their menopause diet. It helps to build cell and muscle tissue of the body. Protein is found in soy, whole grains, legumes, and meat.
Vitamin D and calcium are important for bone health. During the menopause onset try and get some sun exposure to promote calcium absorption.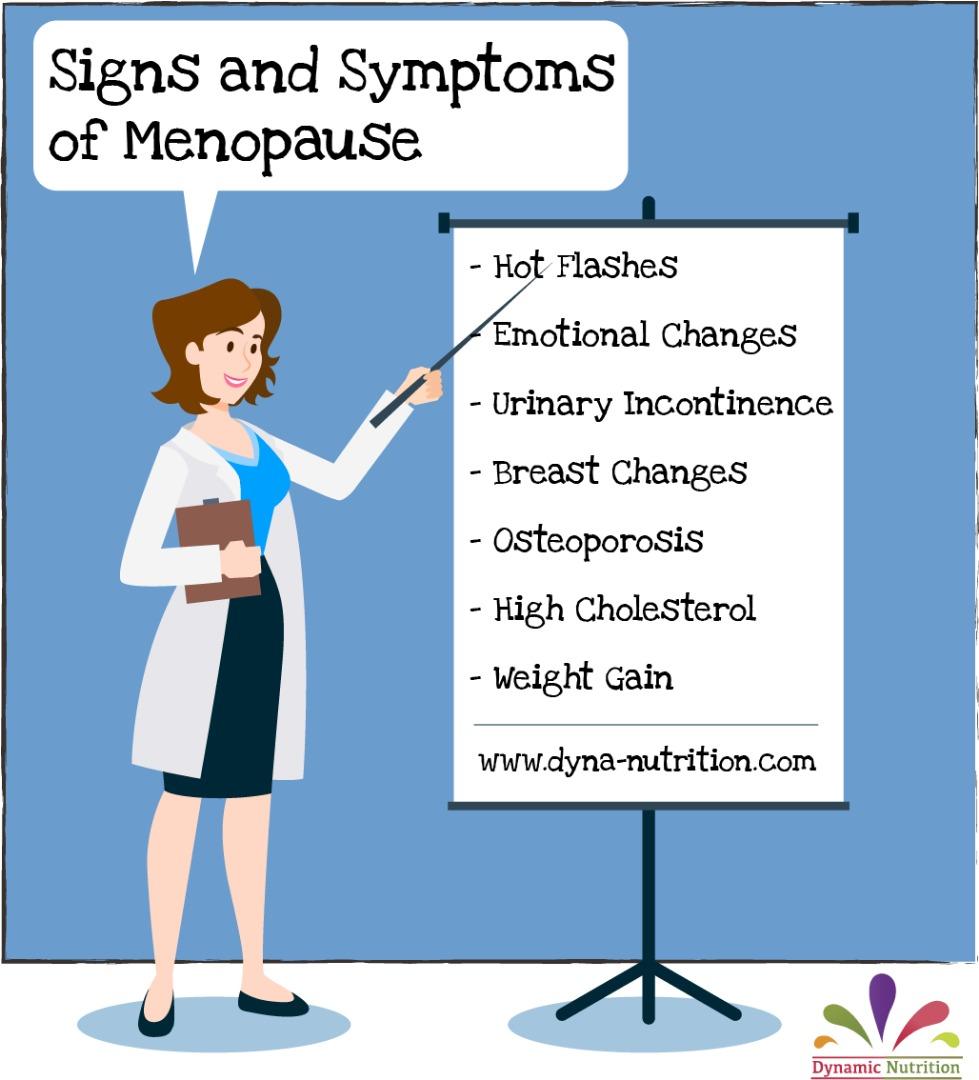 In Conclusion, exercising regularly and eating a healthy balanced diet including plenty of fruit and vegetables will protect your heart and bones during the menopause and also relieve the menopause symptoms.
Feeling too hard to change the diet? Here's an easier solution!
Facebook Comments