Allergies Definition
Allergies are a type of "bodily reactivity (hypersensitivity) to an antigen in response to a first exposure," or an "exaggerated or pathological immunological reactions (as by sneezing, difficult breathing, itching, or skin rashes) to substances, situations, or physical states." Allergy symptoms occur when your body responds to allergens by producing a chemical called histamine, which works by helping to counteract the allergen.

Causes of Allergies
The immune system causes allergic reactions by producing Immunoglobulin E (IgE) antibodies that cause widespread symptoms. There are several broad categories of allergies, which include:
Seasonal allergies (also called rhinitis or hay fever), usually worsening when pollen levels increase or change, such as during the Spring or Fall
Perennial allergies, occurring year-round
Food allergies, such as shellfish allergies
Drug/medication allergies
Indoor allergies, such as to mold or dust
Skin or eye allergies
Pet/animal allergies, such as to dogs/cats, insects, etc.
Anaphylaxis, which is a serious, life-threatening allergic reaction in response to a number of different allergens
Allergies Symptoms
Symptoms caused by allergies vary from person to person, depend on what's causing the allergic reaction, and will vary depending on how severe the allergy is. Common symptoms associated with allergies can include:
Skin rash, redness, hives, dryness, peeling or itchiness
Tingling or itchy sensations in the mouth and on the lips
Swelling of the tongue, lip, throat or face
Itchy nose, congestion, and stuffiness
Nausea and vomiting
Diarrhea and abdominal cramps
Coughing, wheezing and trouble breathing (symptoms of asthma that can sometimes be triggered by allergies)
Dizziness, lightheadedness and in severe cases loss of consciousness
5 Natural Allergy Relief Remedies
Eat an Anti-Inflammatory Diet
Start eating an anti-inflammatory diet to reduce your risk for allergies and many other health problems. Caring for your body with nutrient-dense foods gives your immune system the ability to repair itself, bringing it back into balance so it can fight off common allergies in your environment. Here are some of the best foods and ingredients to incorporate into your diet to help you beat allergies:
Garlic —Garlic is a natural antibiotic that helps ward off infections, viruses, and even allergies.
Lemons — Lemons and limes are excellent immune-boosting little fruits and are used for various afflictions, including allergies.
Green leafy vegetables — Leafy greens (including spinach, kale, collard greens, romaine, arugula, and watercress) are a great source of essential vitamins, minerals, antioxidants and enzymes that aid detoxification and help reduce inflammation.
Coconut milk — The best alternative for cow's milk is coconut milk, which is free of dairy, lactose, soy, nuts, and grains.
Almond butter & seeds — For people allergic to peanuts and peanut butter, almond butter is a safe and healthy alternative that provides healthy unsaturated fatty acids, fiber, minerals like riboflavin and magnesium, and even some antioxidants. Flaxseeds, chia seeds, pumpkin seeds, and sunflower seeds are also great sources of healthy fats and fiber.
Breast milk — Studies shows that exclusive breastfeeding seems to have a preventive effect on the early development of asthma and atopic dermatitis.
Local Raw Honey (Bee Pollen)
Raw honey contains bee pollen, which is known to ward off infections, allergies, and boost immunity. It also contains many enzymes that support overall immune function.
Apple Cider Vinegar (ACV)
Drinking a glass of water with a teaspoon of ACV and some fresh lemon juice is one of the best ways to wake up every morning. At the first sign of an allergy attack, put one teaspoon of ACV in your neti pot solution for a natural "sinus flush."
Quercetin
Quercetin is naturally found in plant foods such as cruciferous vegetables (like broccoli or cauliflower), onions/shallots, green tea, and citrus fruits. Quercetin is a bioflavonoid that stabilizes the release of histamines and helps to naturally control allergy symptoms.
These are healthy bacteria that live in your digestive tract. While there are conflicting reports, some studies show that probiotics might reduce allergy symptoms such as a runny nose and congestion. You can get them naturally from foods like kefir, sauerkraut, kimchi, natto, yogurt, raw cheese, miso, and kombucha. They're also available in supplements.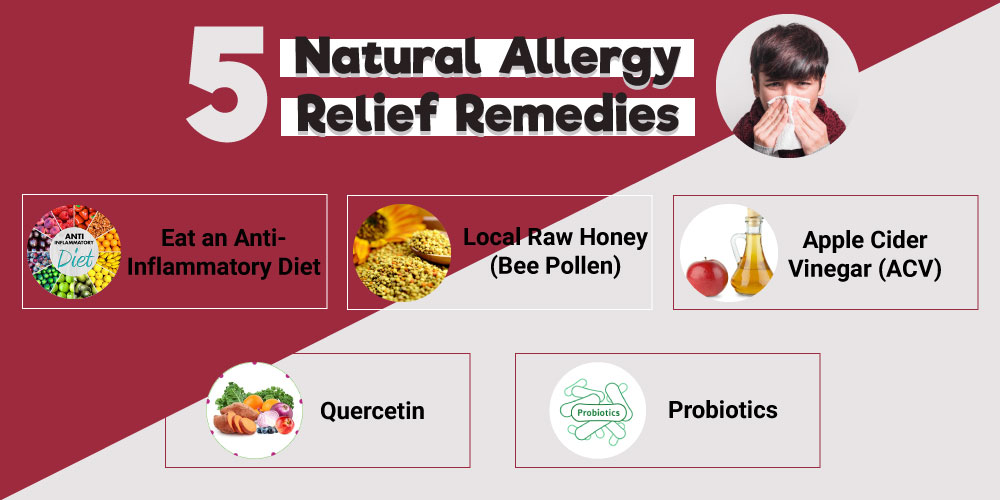 Facebook Comments