What is Shingles?
In this region, Shingles is also known as kayap in Malay or 带状疱疹 in Chinese. While it isn't a life-threatening condition, shingles can be very painful. Although shingles can occur anywhere on your body, it most often appears as a single stripe of blisters that wraps around either the left or the right side of your torso. Shingles is caused by the varicella-zoster virus — the same virus that causes chickenpox. Anyone who has recovered from chickenpox may develop shingles at some point later in life, and the risk increases for adults over the age of 50. The virus lies inactive in nerve tissue near your spinal cord and brain. Years later, the virus may reactivate as shingles. Vaccines can help reduce the risk of shingles, while early treatment can help shorten a shingles infection and lessen the chance of complications.  
Shingles Symptoms
Most shingles sufferers first notice the pain. Usually, patients report a burning pain, tingling sensation and itching – like having ants crawling all over you. Even a tee-shirt brushing against the affected skin area can cause discomfort. Shingles symptoms usually include a red rash that begins a few days after the pain, as well as fluid-filled blisters. Most commonly, these symptoms appear on one side of the body, usually at the level of the chest or abdomen. Seek professional treatment once you notice symptoms like a rash and blisters, especially if they are accompanied by fever and body ache. You need to be treated within 72 hours to reduce the pain and prevent complications.  
Is there a cure for shingles?
To date, there is no cure for shingles. But you don't have to suffer in silence. We cannot completely eliminate the virus from the body, but proper treatment will drastically reduce the severity of the pain. Doctors usually prescribe anti-viral medications and strong painkillers, as well as calamine lotion and anti-itch medications to stop the itch. Anti-depressants may also be used to relieve the pain. Effective shingles treatment can provide huge relieve. Although an antiviral is an effective treatment for shingles, it's not the only option. Several natural remedies may also reduce pain and discomfort.  
Natural Treatments for Shingles
1. Healing baths
Daily cleansing of the blisters reduces the risk of spreading the infection. Take a cool bath or shower to soothe skin. The coolness of the water can ease pain from shingles blisters and calm itchiness. You can also take a healing bath to reduce symptoms. Pour 1 to 2 cups of colloidal oatmeal or cornstarch into lukewarm bathwater and soak for 15 to 20 minutes. Do not use hot water. Hot water can worsen shingles blisters because heat increases blood flow. Dry your body completely and then wash your towel to avoid spreading the virus to others.  
2. Wet, cool compress
In addition to taking a bath to relieve pain and itchiness associated with a shingles rash, apply a cool, moist compress. Do this several times throughout the day to relieve symptoms. Soak a cloth in cool water, wring out the water, and apply the cloth to the rash and blisters. The coolness of the compress can reduce pain. Repeat the process as often as you need. Do not apply an ice pack to the rash. The coldness may increase skin sensitivity and worsen pain.  
3. Soothing lotions and creams
Scratching a shingles rash can cause scarring and prolong blisters. If itching doesn't improve after a healing bath, a cool compress, or a baking soda or cornstarch mixture, use soothing lotions and creams. Lotions and creams don't speed up the healing process, but they can increase your comfort level. Avoid scented or perfumed lotions, which can cause further irritation. Find a great selection of unscented lotions here. Use lotions and creams sparingly, as heavy application can keep sores from drying out and lengthen the healing process. For the same reasons, don't use antibiotic ointments on the sores. Additionally, you can apply calamine lotion after baths and showers to soothe irritated skin and help dry out blisters.  
4. Herbal remedies
Some supplements and herbal medicines may also help your body fight the virus, and treat insomnia and anxiety due to shingles. These include:
melatonin
St. John's Wort
oregano oil
echinacea
lemon balm
green tea
essential fatty acids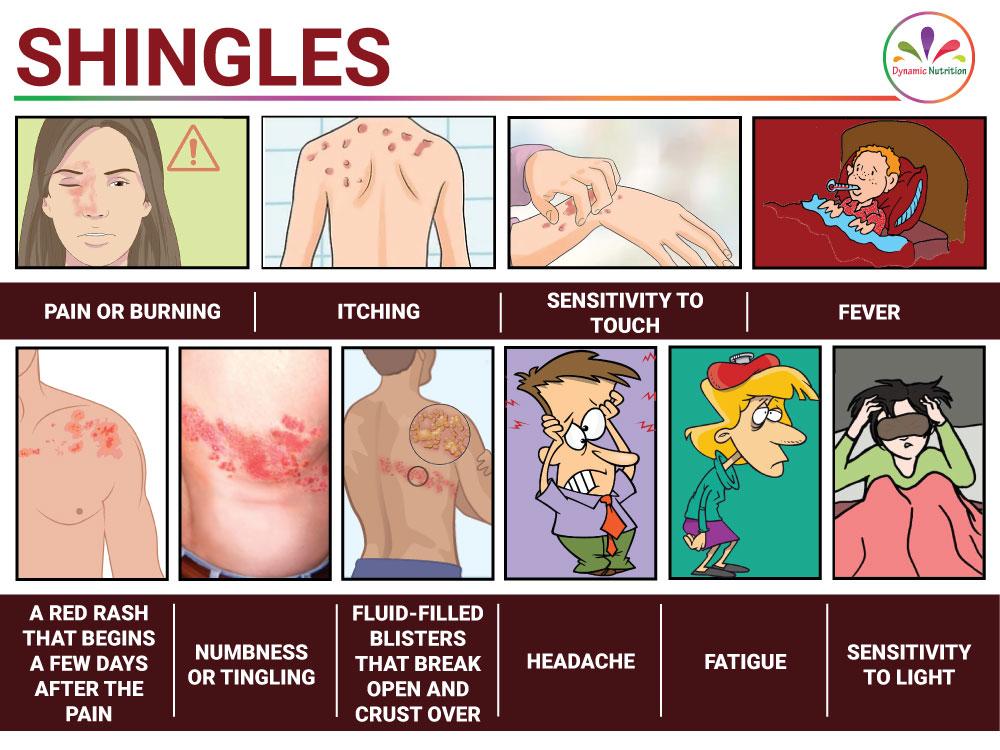 Consult your doctor before taking any supplements.
Facebook Comments