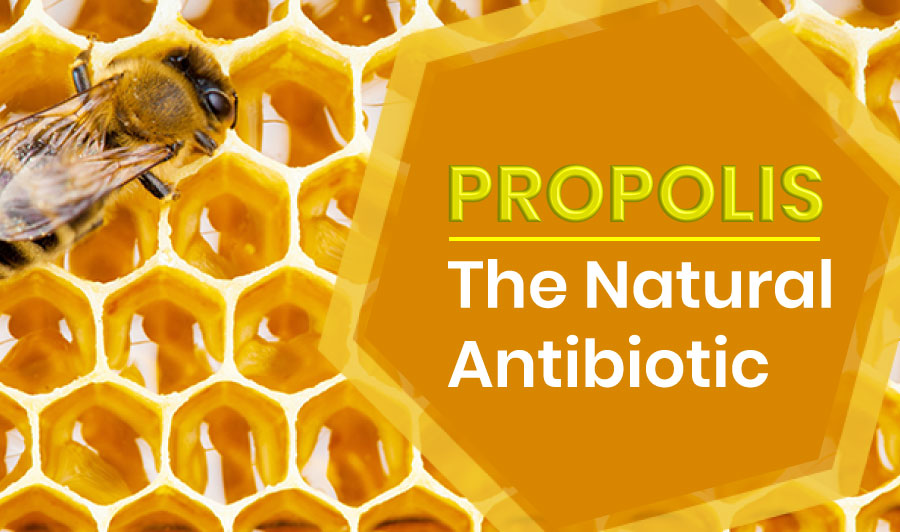 The natural form of propolis is a hard, brittle resin which becomes very sticky and waxy when heated up. The word propolis means "suburb" in Greek, as the bees use propolis to extend and defend their hives.
Propolis is produced by honeybees using plant parts and sap. Bees use propolis as a type of cement for building, repairing, and protecting their hives against bacteria and intruders. Observing bees, humans all over the world learned to use propolis for millennia as a health supplement, "cure-all", and even for rituals such as mummification.
Propolis is medicinal marvel from the beehive. Propolis offers antiseptic, antibiotic, antibacterial, antifungal, and even antiviral property. Propolis demonstrates strong antimicrobial properties against assorted bacterial and fungal infestations. Other properties of propolis include acting as a local anesthetic, reducing spasms, healing gastric ulcers, and strengthening capillaries. Propolis can be used by humans internally or externally. Propolis has been justly called Nature's premier preventive.

Top 5 Health Benefits of Propolis
1.The Natural Antibiotic
Bees protect the hive from bacteria by covering debris with propolis to block the spread of harmful parasites. Propolis can kill harmful bacteria, viruses, fungi, and parasites when used either orally or on the skin. The two best-studied propolis varieties for this purpose are Brazilian propolis and European propolis.
2. An Antioxidant
In a clinical trial of 67 people, 15 drops of a propolis solution (Beepolis) twice daily acted as a potent antioxidant, increased the master antioxidant glutathione, as well as the "good" cholesterol HDL. It was given for 3 months and reduced the risk of heart disease.
3. Fights Yeast and Fungal Infections
Propolis fights yeast infections and other fungi by blocking their ability to form colonies in the body. In a study of 707 patients with fingernail fungal infections, propolis extract used applied to the nails cured infections in more than half of the participants after 6 months. It could penetrate the nail and destroy fungal biofilms.
In several cell studies, propolis stopped the formation of yeast clusters by dissolving this biofilm layer yeast cells use to cling to body surfaces, preventing an infection. It could also kill Candida and block its biofilms in cells
4. Prevents and Treats Common Cold and Sore Throats
Scientific studies have shown that propolis extracts may naturally prevent as well as shorten the duration of the common cold, which can often include a dreaded sore throat. One study administered an aqueous propolis extract to a group of very young school children for the entire duration of a year's "cold season." The exact daily dose is not given, but the children treated with propolis had fewer colds with acute or chronic symptoms. The propolis extract was also tolerated well.
5. Fights Parasites
Giardiasis is a parasitic infection that can occur in the small intestine and is caused by a microscopic parasite called Giardia lamblia. You can contract giardiasis from contact with infected people or by eating contaminated food or drinking water. A clinical trial looked at the effects of propolis extract on 138 giardiasis patients, both adults and children. The researchers found that the propolis extract resulted in a 52 percent cure rate in children and a 60 percent elimination rate in adults.
Recent research and interest in propolis revealed its additional health benefits for lowering blood pressure, strengthening the bones, helping to heal wounds, and protecting the liver.
Products you may interested in
Facebook Comments