Blackberries rank as one of the top 10 highest-antioxidant foods, according to its ORAC value. With an ORAC score of 5,905, these tiny fruits deliver a powerful punch of antioxidants with each bite, helping you fight against diseases, boost immunity and maintain premium health.
What is Blackberry?
Blackberry (Rubus fruticosus) is native to the European continent and a common sight in the British counties. It is an ancient member of herbal medicine. Blackberry variants are now widely grown in the North American countries and the Indian subcontinent and are known for their sharp taste and high nutritional value
Blackberry has a sprawling, woody, and thorny stem with dark green hairy leaves that have uneven margins. The flowers are white to pale pink, and the fruits are the fleshy blackberries. The fruits and other parts of the shrub are rich in vitamin C, dietary fiber, tannins, anthocyanins, and similar phytonutrients.
Health Benefits of Blackberries
Anti-inflammatory
Blackberries help in improving the immune system of the body. This is due to the presence of phytoestrogens, vitamins, and minerals. Regular consumption of blackberries helps fight various pathogens and protects the body from infections and other fatal illnesses.
One of the examples is in its protection against stomach ulcers. One study found an 88 percent reduction in the stomach ulcers of subjects given extracted ellagitannins (a type of antioxidant) from blackberries, due to the reduced inflammation of the mucosal lining of the stomach, as well as a drop in the oxidative stress that was also partially responsible for the ulcers.
High Fiber
One cup of fresh berries (or 1¼ cups frozen) provides around 8 grams of fiber. That's about a third of the amount of fiber you should aim to eat in a day. All that fiber will help increase satiety, curb cholesterol, support weight loss, and regulate blood sugar and insulin levels. It will also boost your digestive health: Blackberries are prebiotics, which means they feed the friendly bacteria in your gut that have been tied to immunity, mood, and anti-inflammatory effects.
Maintain Brain Health 
The incredible nutrient load of blackberries makes them a remarkable candidate for peak mental health. Manganese is one nutrient present in high levels in blackberries that are vital to brain functioning. A notable percentage of manganese in your body is found in the synapses of your brain. Because of the importance of manganese transmission in the brain, a manganese deficiency is linked to brain conditions like epilepsy.
Regulate Menstrual Health
Blackberries are rich in vitamin K. The presence of vitamin K helps regulate hormone function and thereby potentially reduces cramping pains. As a blood-clotting vitamin, it can also help with excessive bleeding and give some pain relief during heavy menstrual cycles. This is very helpful for those who are struggling with PMS symptoms.
May Prevent Cancer and DNA Damage
Blackberries are known for their antioxidant profile and contain free radical-scavenging enzymes. Fair amounts of essential antioxidant enzymes – catalase, glutathione reductase, and ascorbate peroxidase – were identified in strawberries and blackberries. This could mean protection from DNA damage inflicted by the carcinogens. The antioxidants in blackberries help reduce the risk of breast, cervical, and esophageal cancers.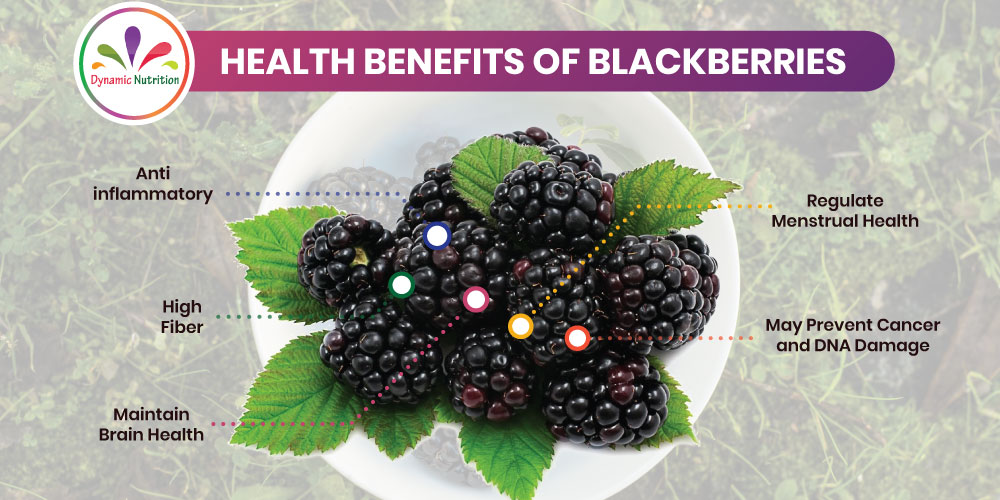 Facebook Comments