Description
Benefits of NuSTEM
Advanced stem cell support

Increases the number of circulating stem cells

Accelerates tissue repair at cellular level

Supports daily tissue renewal

Promotes healthy aging

Supports physical performance at all levels

Power antioxidant – protect against oxidative damage

CyanthOx™ – Stem Cell Rejuvenation
CyanthOx™ is extracted from an ancient plant grown in Tibetan Plateau called sea buckthorn. Through millions of years of evolution, sea buckthorn is a treasure of bioactive nutrients. CyanthOx™ is rich in polyphenols, proanthocyanidins, and bioflavonoids. CyanthOx™ is highly concentrated – it takes 300kg of sea buckthorn to produce 1kg of CyanthOx™.
Sea buckthorn has been used for centuries in Tibetan, Mongolian and Chinese Medicine to support the health of the heart, cardiovascular system, lungs, and pancreas, as well as the process of tissue repair after an injury. CyanthOx™ is a proprietary extract of sea buckthorn berries, which has been documented to significantly increase the number of circulating stem cells.
CyanthOx™ offers a dual mechanism to help slow down the aging process: Protect and Repair.
Stem Cell Stimulation
CyanthOx™ has been clinically-tested to trigger stem cell release and increases the number of circulating stem cells in the blood circulation by nearly 40%* (Drapeau et al, 2019). These stem cells have the potential to transform into other more specialized cells, helping to repair damaged tissues and organs in our body. Researches have suggested that a higher number of circulating stem cells can lower the chance of developing degenerative health problems.
A the clinical study published in Clinical Interventions in Aging shows that CyanthOx™ may stimulate 3 different types of stem cell, contributing to anti-aging, anti-inflammation, skin health, vessel health and blood circulation.
Results: Consumption of sea buckthorn proanthocyanidins CyanthOx™ leads to an increase in 3 different types of stem cells and supports preventive health, regenerative health, and postponing the aging process.
Antioxidant Protection Effect
As a result of its rich antioxidant profile, CyanthOx™ is very potent in terms of antioxidant capability.
According to Oxygen Radical Absorbance Capacity (ORAC) analysis, CyanthOx™ has an ORAC value of 895,281 μmol TE/100g (Puredia Corporation Limited, 2019). In comparison, CyanthOx™ is 8 times stronger than grape seed extract (Superfoodly.com,2019) and 1.7 times more potent french maritime pine bark extract (Legault et al., 2013).

In-vitro studies suggest proanthocyanidins from sea buckthorn protect cells from oxidative damages, including superoxide anion radical (O₂-), hydroxyl radical (HO) and DPPH (Fan et al., 2007). Human clinical trial further confirms its protective effects, enhancing SOD, GSH (parameters of antioxidant activity), while reducing MDA (a marker of oxidative stress) in participants (Zou et al., 2010).
---
Ioniplex® Ionic Fulvic Minerals – Cellular Repair
Ioniplex® is a patented ingredient that has been clinically shown to improve mitochondrial metabolism and repair the body at the cellular level. Clinical studies have shown that Ioniplex® is readily absorbed into cells and works to improve mineral uptake and increase energy through cellular repair and protection.
Ioniplex is a fulvic ionic mineral that can contain up to 65 essential macro and trace minerals. This combination of fulvic acid and minerals in an ionic form, makes it a powerful ingredient that can have long reaching beneficial effects.
Mitochondrial Metabolism & Cellular Health
Mitochondria are often called the "powerhouses" or "energy factories" of a cell, as they are responsible for producing energy and respiration. When mitochondria metabolize properly they assist with cell vitality and performance while protecting against cell damage.
Our bodies are comprised of trillions of cells that make up our muscles, organs, tissues, and skin. Each cell has many components that provide protection and function. One of the most important components of our cells is the mitochondria.
How is Ioniplex® Made?
As one of the largest fulvic acid manufacturer's, Mineral BioSciences derives Ioniplex from several humic deposits located throughout the US. These deposits are rich in compressed organic plant matter, each with unique characteristics.
Fulvic ionic mineral, in layman's terms, is generally described as an organic acid derived from biologically active layers of ancient, decomposed and compressed plant matter known as leonardite.
Each deposit is carefully mined, then transported to our state-of-the-art facility, where it is blended with its companion deposits and prepared for extraction using a patented process. This combination of raw material sourcing and patented processing makes Ioniplex® singularly unique as a stand alone fulvic ionic mineral.
What does Ionic Mean?
Ionic minerals have achieved their smallest molecular composition and are electrically charged. This form is easily absorbed by the body and is extremely bioavailable at the cellular level.
What is Fulvic Acid?
Fulvic acid is a compound that is essential to the well-being of cellular life. It is highly bioavailable, with the ability to penetrate cell membranes, so all of its nutrients reach your body. From here, fulvic acid feeds your cells, improving mitochondrial metabolism in the process. Scientific research has also shown fulvic acid is a powerful detoxifier by removing heavy metals from within cells, neutralizing free radicals, and functioning as an antioxidant.
Why is Fulvic Acid Important?
Over the past several decades, scientific research has uncovered more information about how fulvic acid can improve human health and bodily functions by:
Improving gut health and immune function
Boosting digestion and nutrient absorption
Detoxifying cells
Lowering free-radical damage
Reducing inflammation
Enhancing energy levels
Repairing and protecting skin
What Ionic Minerals are in Ioniplex?
Ioniplex is a fulvic ionic mineral that can contain up to 65 essential macro and trace minerals. Ioniplex has a guaranteed composition of: Fulvic Acid, Antimony, Sulfur, Barium, Boron, Calcium, Chromium, Cobalt, Iodine, Lanthanum, Magnesium, Manganese, Molybdenum, Neodymium, Phosphorus, Potassium, Rubidium, Selenium, Silicon, Silver, Sodium, Vanadium, Zinc and Zirconium.
Ioniplex also contains the following: Carbon (total organic), Iron, Copper, Germanium, Gold, Platinum, Chloride, Sulfur, Bromide, Fluoride, Niobium, Iridium, Strontium, Titanium, Palladium, Tungsten, Tin, Rhenium, Nickel, Lithium, Gallium, Yttrium, Bismuth, Hafnium, Cadmium, Thorium, Cerium, Tellurium, Beryllium, Samarium, Dysprosium, Erbium, Indium, Scandium, Ruthenium, Tantalum, Rhodium, Thulium, Thallium, Holmium, Ytterbium, Terbium, Lutetium, Gadolinium, Europium, Praseodymium
How does Ioniplex work?
Clinical studies have shown that Ioniplex is readily absorbed into cells and works to improve mineral uptake and increase energy through cellular repair and protection. These benefits ensure that our cells continue to function properly.
Minerals are the basic building blocks for proper nutrition and health, all tissue and internal fluids contain minerals: bones, teeth, soft tissue, muscle, blood and nerve cells. Without them, other nutrients are unable to function properly and, the end result is often, serious mineral deficiencies.
Ioniplex Clinical Study On Healthy Skin, Hair & Nails
In an internal study conducted by Mineral BioSciences LLC, Ioniplex has repeatedly shown Type I collagen stimulation. Results have indicated an average of 30% increase in collagen production vs a control.
In additional, there is also improvements in skin, hair and nails:
Improve skin texture by 33%
Hair appearance by 14%
Nail growth by 142%
Significant increase in nail strength
Ioniplex Clinical Study On AGE Inhibition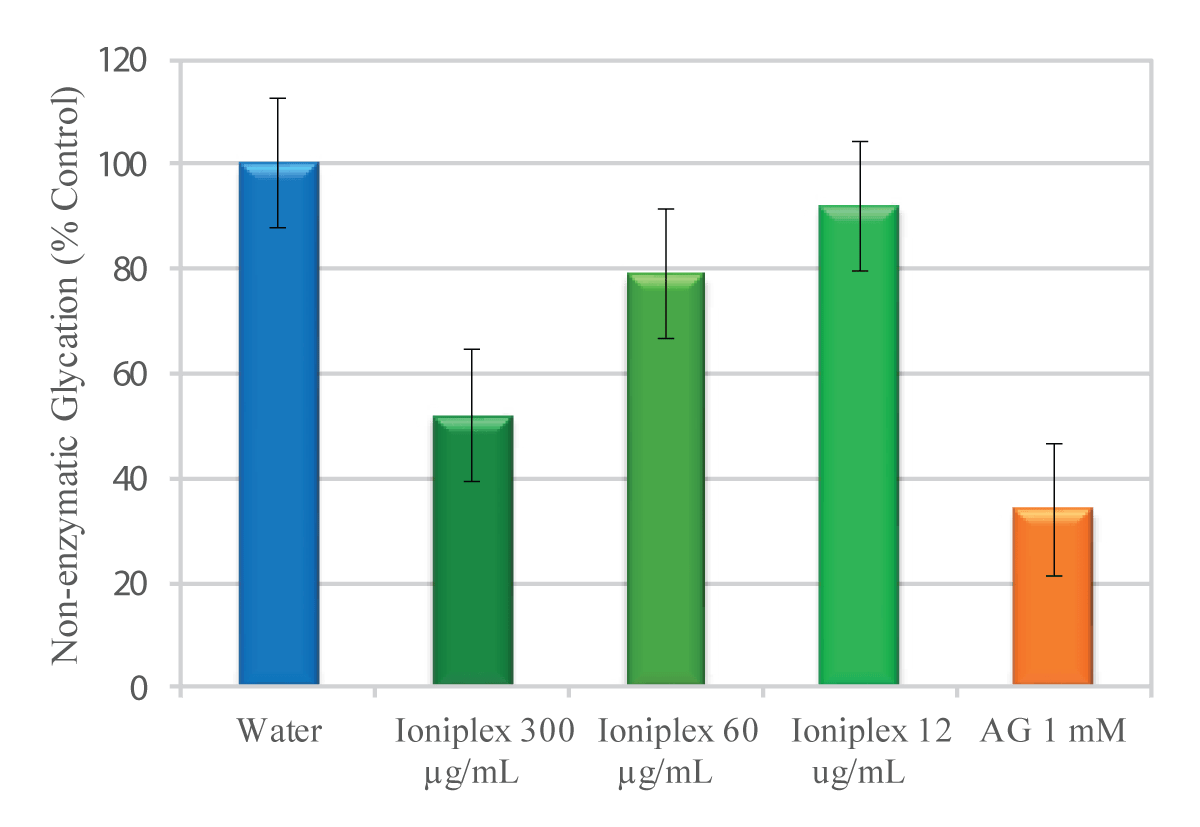 Advanced glycation end products (AGEs) are harmful compounds that are formed when protein or fat combine with sugar in the bloodstream. This process is called glycation. AGEs can also form in foods. Foods that have been exposed to high temperatures, such as during grilling, frying, or toasting, tend to be very high in these compounds. In fact, diet is the biggest contributor of AGEs.
High levels of AGE are known to cause oxidative stress and inflammation. It is linked to the development of many diseases, including diabetes, heart disease, kidney failure, and Alzheimer's, as well as premature aging. In fact, people who have high blood sugar levels, are at a higher risk of producing too many AGEs, which can then build up in the body. Many health professionals are calling for AGE levels to become a marker of overall health.
In an internal study conducted by Mineral BioSciences LLC, Ioniplex has shown that Ioniplex is able to trigger up to a 50% decrease in AGEs. From these results, Ioniplex was patented as an anti-glycation agent to help prevent the occurrence of glycation within the body.