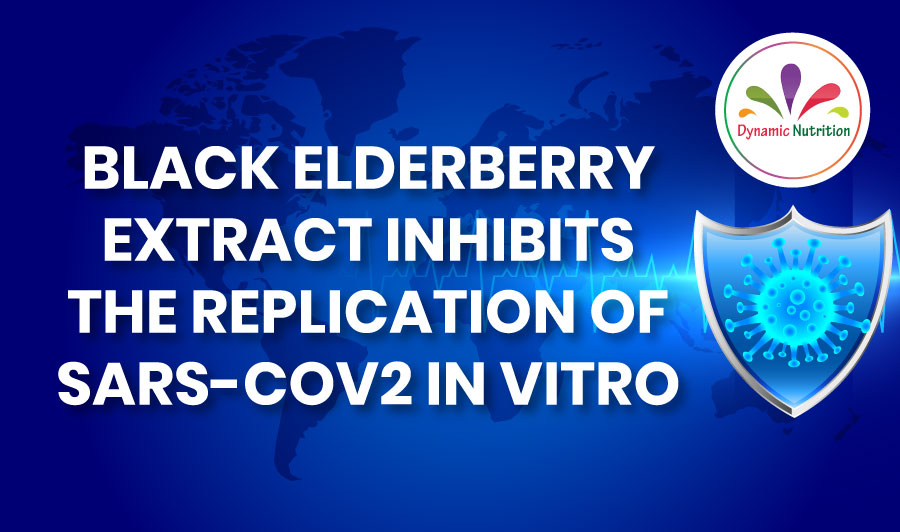 — This content is provided by IPRONA.
Even though infection with SARS-CoV-2 induces mild flu-like symptoms in the majority of those affected, some patients develop a severe form of the disease, including a progressive pneumonia due to an overreacting immune system. Therapeutic options for patients with moderate-to-severe COVID-19 remain limited and escape variants represent an additional threat. Accordingly, the development of novel anti-viral treatment options is eagerly awaited.
A new study published by researchers at the University Erlangen has shown Black Elderberry Extract has a strong antiviral effect against SARS-CoV-2, leading IPRONA to file an international patent for its ElderCraft®​ extract. The University of Erlangen, Institute for Virology under the direction of Prof. Schubert studied the effect of an extract made by IPRONA from Sambucus nigra,​ L. black elderberries (variety Haschberg) on the SARS-CoV-2 coronavirus that causes COVID-19. The tests found the extract inhibits the replication of the wildtype virus, as well as the variants of concern Alpha and Beta, at very low concentrations.

The scientific studies build on centuries of use of black elderberry (Sambucus nigra​ L.) to treat flu and flu-like symptoms. In recent years, several human studies have confirmed the efficacy of black elderberry by showing a significant reduction in the duration and intensity of symptoms during influenza infections1,2​.
The most recent human clinical study showed that an extract is able to significantly reduce the duration and intensity of influenza infections in long-haul flight passengers3​. In vitro studies indicate direct inhibition of viral replication through the blockage of viral receptors and the inhibition of key enzymes involved in viral replication4​. Other in vitro studies show the immune system seems to be positively influenced by components such as the polysaccharides present in the fruit of black elderberry5​.
Ongoing, further studies will evaluate the efficacy versus other variants of concern and seek to identify the Mode of Action by using time of application studies. Interestingly, the proprietary production process IPT (IPRONA Polyphenol Technology) used to make the extract, IPRONA's ElderCraft®​, seems to capture the inhibitory properties more efficiently than standard concentration techniques.
IPT is an entirely mechanical, solvent-free separation and ultra-filtration process that IPRONA uses to extract an active blend of natural fruit anthocyanins, polysaccharides and berry micronutrients from elderberries grown in southeast Austria by a cooperative of 250 farmers.
"It is fascinating to see that IPRONA`s elderberry extract ElderCraft® ​is able to inhibit the replication of SarsCov viruses even at very low concentrations. It has been known for a while that black elderberry is active against common influenza viruses, but this is the first time that an activity against the coronavirus SARS-CoV-2 and its variants of concern has been found", Stephan Plattner, Scientific Director of IPRONA, said.
While the current research is still ongoing, the use of ElderCraft®​ for the prevention and treatment of COVID-19 has been filed as an international patent application. The study results will be published in international journals over the course of the year, adding to the large volume of evidence of the positive effects of elderberry.
REFERENCES​
1. Zakay-Rones Z, Thom E, Wollan T, Wadstein J. Randomized study of the efficacy and safety of oral elderberry extract in the treatment of influenza A and B virus infections. J Int Med Res​. 2004;32(2):132-140. doi:10.1177/147323000403200205

2. Zakay-Rones Z, Varsano N, Zlotnik M, et al. Inhibition of Several Strains of Influenza Virus in Vitro and Reduction of Symptoms by an Elderberry Extract (Sambucus nigra​ L.) during an Outbreak of Influenza B Panama. J Altern Complement Med​. 1995;1(4):361-369. doi:10.1089/acm.1995.1.361

3. Tiralongo E, Wee SS, Lea RA. Elderberry supplementation reduces cold duration and symptoms in air-travellers: A randomized, double-blind placebo-controlled clinical trial. Nutrients​. 2016;8(4). doi:10.3390/nu8040182

4. Swaminathan K, Müller P, Downard KM. Substituent effects on the binding of natural product anthocyanidin inhibitors to influenza neuraminidase with mass spectrometry. Anal Chim Acta​. 2014;828:61-69. doi:10.1016/j.aca.2014.04.021

5. Kinoshita E, Hayashi K, Katayama H, Hayashi T, Obata A. Anti-influenza virus effects of elderberry juice and its fractions. Biosci Biotechnol Biochem​. 2012;76(9):1633-1638. doi:10.1271/bbb.120112
Products you may be interested in
Facebook Comments