According to the Havard Health Publishing, people follow a vegetarian diet or vegan diet for various reasons. This includes health, religious convictions, concerns animal welfare or the use of antibiotics and hormones in livestock, or a desire to eat in a way that avoids excessive use of environmental resources. A vegetarian doesn't eat any meat and may or as a vegan may not choose to eat other animal products such as eggs, dairy, or honey.
Some will concern about the lack of certain nutrients in a vegetarian diet. These nutrients normally found in meat and fish. However, we may still obtain the nutrients in vegetarian or vegan diets as well if we are familiar with the food sources.
Below here are the key nutrients that vegetarians/vegans need to know:
Protein

Repair and build tissues, act as enzymes, boost up the immune system and serve as hormones
Examples: Nuts, soy products, legumes, meat substitutes, dairy foods and eggs
Calcium

Maintain strong bones and support bones and teeth structure and hardness
Examples: milk, yogurt, cheese, broccoli, butternut squash, black beans, white beans, soybeans, and tofu
Iron

An important component of hemoglobin, the substance in red blood cells that carries oxygen from lungs to transport it throughout the body.
Examples: beans, seeds, soybeans, tofu, fortified breakfast cereals, dark green leafy vegetables and dried fruits
Vitamin C can boost up the absorption of iron
Zinc

Important for growth and immune system. Play a role in cell division, cell growth, wound healing, and the breakdown of carbohydrates
Examples: whole grains, fortified breakfast cereals, dairy products, soy products, nuts, seeds, and legumes
Vitamin D

Needed for healthy bones, regulate calcium, maintain phosphorus levels in the blood
Examples: fortified dairy or soy products, egg yolks, and the easier way is 15 minutes of sun exposure for the daily needs
Vitamin B12

Keep body's nerve and blood cells healthy
Examples: yogurt, low-fat milk, fortified plant-based milk, cheese, eggs, fortified cereals and nutritional yeast
Omega-3 Fatty Acids

Makeup cell membranes, keep the nervous system functioning, maintain healthy cholesterol levels and prevent inflammation
Examples: walnuts, flaxseeds, chia seeds, seaweed, beans, green leafy vegetables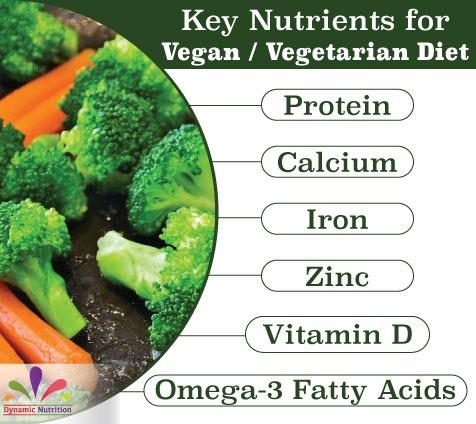 Click here for the easy and convenient solution!
Facebook Comments