Riflex360 Capsule
Advanced Joint Health Formula
Traditionally Used For Relieving Joint Pain
RiFlex 360 Capsule is an advanced joint health formulation combining Turmacin® Turmeric Extract, Tart Cherry extract and French Pine Bark Extract.
Turmacin® is a clinically proven and patented ingredient that brings the joint and cartilage health benefits. It is rich in Turmerosaccharides™, a group of water-soluble bioactive polysaccharides present in turmeric (Curcuma longa), which are responsible for its joint health supporting properties.
Benefits of

Riflex360 Capsule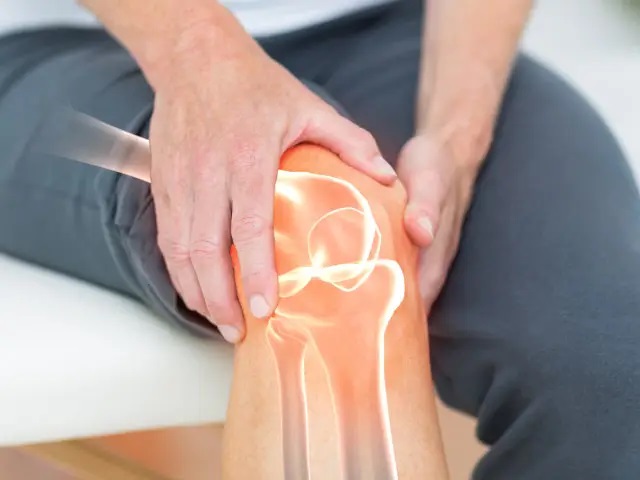 Reduce knee joint pain in 3 to 7 days
Relief symptoms of osteoarthritis
Promote collagen synthesis in joints
Powerful anti-inflammatory & antioxidant properties
Turmacin® – Clinically Proven To Reduce Joint Pain & Support Joint Health
Turmeric is a well known Indian spice derived from the rhizomes of Curcuma longa. Turmeric is related to ginger and grown in many Asian countries, as well as other tropical areas. The plant has a long history of food use in Indian cuisine and medicinal use in Ayurveda as a treatment for inflammatory conditions.
Turmeric's main active component "curcumin" is what gives the spice its yellow color. Curcumin has anti-inflammatory and antioxidant properties, making it a potential treatment for a number of health conditions, including reduced pain and increased ease of movement in people with osteoarthritis.
Turmacin® is an innovative clinically researched and patented ingredient that brings the joint and cartilage health benefits of turmeric. It is rich in water-soluble Turmerosaccharides™, a bioactive polysaccharides.
Turmerosaccharides™ are a group of water-soluble bioactive polysaccharides present in Turmeric (Curcuma longa), which are responsible for its joint health supporting properties.
Turmacin® supports joint health by
Promoting collagen synthesis
Promoting proteoglycan synthesis
Anti-inflammatory antioxidant properties to reduce joint pain
In clinical trials, Turmacin® has been shown to improve the quality of life of people with joint problems by decreasing the pain and improving the function of the affected knee.
Clinical Study 1

Condition: 120 human participants with primary knee osteoarthritis
Dose: 500 mg twice a day
Duration: 42 days
Evaluation: On day 21 and day 42 using WOMAC, VAS and CGIC scales
Outcome: Turmacin® effectively managed the symptoms of knee osteoarthritis and supported physical function of knee joints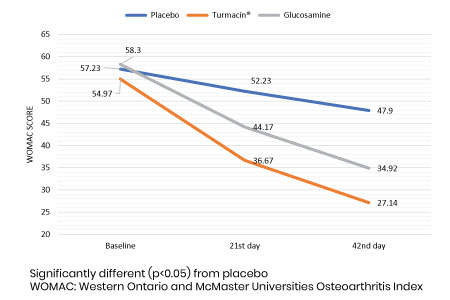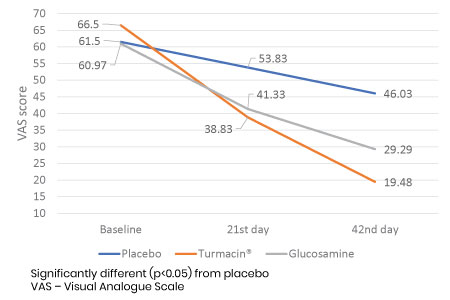 Turmacin® decreased pain & stiffness score (WOMAC) by 51% and reduced pain score (VAS) by 71%
Clinical Study 2

Condition: 68 human participants aged 18 to 65 years, with mild to moderate knee joint pain
Dose: 500 mg once a day
Duration: 7 days
Evaluation: On day 3 and day 7 using WOMAC scale
Outcome: After 3 days Turmacin® effectively reduced pain when walking on a flat surface, going up or down stairs, and sitting or lying and also reduced pain at night while in bed and in an upright standing position. Effects become more pronounced after 7 days.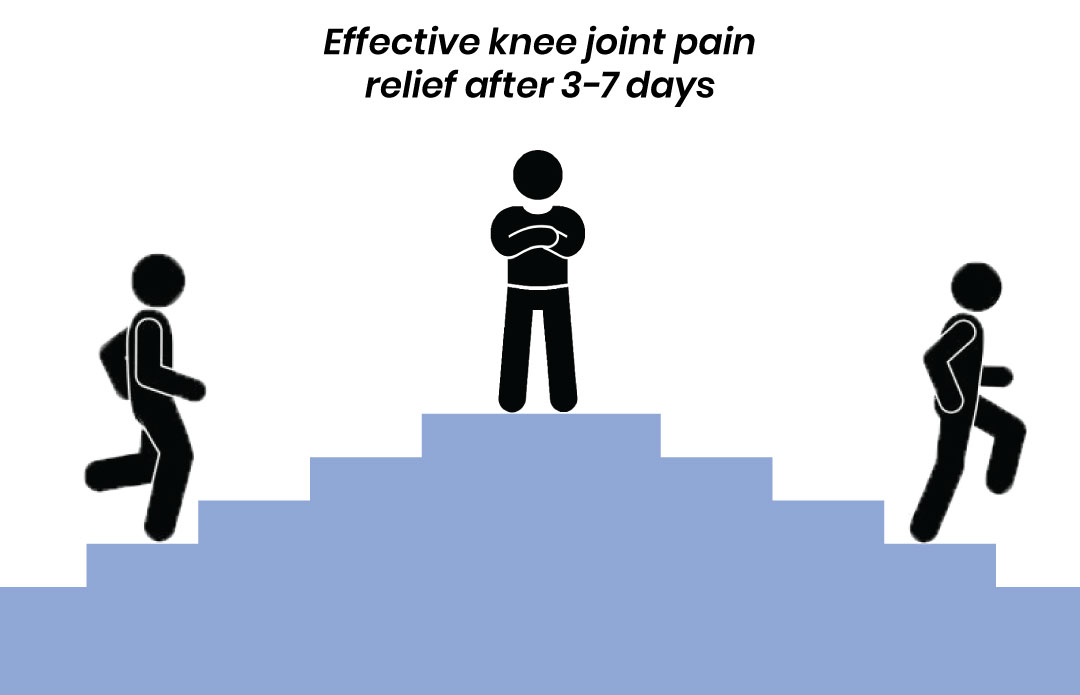 The analgesic effect of Turmacin® was progressive and it is suitable to be used as an emergency painkiller for knee joint pain.
Tart Cherry Extract – An Antioxidant Powerhouse
After years in the shadow of other fruit, tart cherries are emerging as a major Super Fruit. A substantial and growing body of scientific research has linked tart cherries to anti-inflammatory benefits, reduced pain from gout and arthritis and an extensive list of heart health benefits.
Recent studies even suggest tart cherries can help reduce post-exercise muscle and joint pain. Tart cherries contain a unique package of antioxidants and beneficial phytonutrients, including anthocyanins – the pigments that give cherries their bright red colour. There are now more than 50 studies specifically on tart cherries and scientists continue to uncover new and important benefits of this fruit.
Relieving Gout and Arthritis
To understand how tart cherries can target so many disease origins, it's important to appreciate their many underlying biochemical pathways. Extensive evidence demonstrates that these versatile components naturally:
Lower blood levels of uric acid.
Anti-inflammatory: anthocyanins 1 and 2, block/ inhibits enzymes pro-inflammatory called cyclooxygenase-1 and 2 (COX-1 and COX-2) – this helps relieve pain and inhibits inflammation.
Case Study 1 – Tart Cherry Reduces Plasma Uric Acid
Plasma uric acid decreased significantly over the 5 hour period after cherry consumption, indicating a positive benefit of cherries on arthritis gout. [Journal of Nutrition , 2003, 1826-29]
The Plasma Urate Concentration trials show those healthy women ate 2 servings (280grams) of cherries after an overnight fast, they showed a 15 percent reduction in uric acids, as well as lowered nitric oxide and C-reactive protein levels- all of which is associated with inflammatory disease like gout.
Case Study 2
After drinking eight ounces of tart cherry juice daily for four weeks, many adults had lower levels of uric acid.
Case Study 3
The inflammatory benefits have potential to extend to arthritis sufferers too. In a 12-week pilot study conducted by researchers at Baylor Research Institute, a daily dose of tart cherries (as cherry extract) helped reduce osteoarthritis pain by more than 20 percent for the majority of men and women.
French Pine Bark – Rich In Proanthocyanidins
French Pine Bark Extract is a powerful super-antioxidant shown in decades of research to reduce inflammation in patients experiencing osteoarthritis symptoms.
A 2008 study demonstrated French Pine Bark Extract benefits for alleviating inflammation in joints by reducing inflammatory mediators COX-2 and 5-LOX effectively alleviating joint discomfort.
French Pine Bark Extract is a natural approach to significantly reduce pain and improve physical function of arthritic joints. Its natural anti-inflammatory and antioxidant properties are responsible for delivering these excellent results. French Pine Bark Extract has also shown to reduce CRP markers in osteoarthritis patients.
INGREDIENTS:
Each capsule contains:
Turmacin® Turmeric Extract 250 mg 
Tart Cherry Extract 100 mg
French Pine Bark Extract 50 mg
Each bottle contains 60 capsules.
Approved by the Ministry Of Health, Malaysia (MAL21116121TC)
STORAGE:
Store in a dry place below 30°C. Protect from light and moisture.
Keep out of reach of children.
DOSAGE:
Mild Joint Pain: 2 capsules once daily preferably after meal
Severe Joint Pain or Osteoarthritis: 2 capsules twice daily preferably after meal