Description

Benefits Of Optiberries Chewable Tablet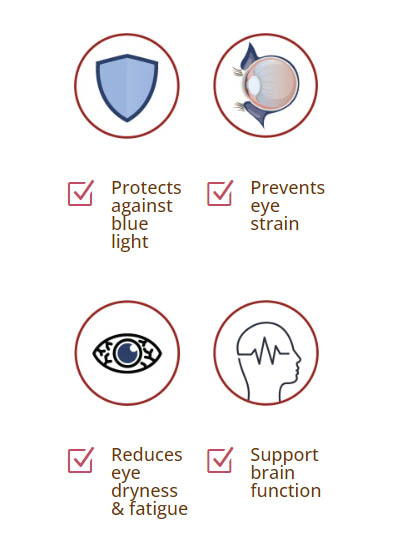 LUTEMAX 2020 – Award-winning 100% GMO-Free Marigold
Lutemax 2020 is a naturally-derived ingredient from marigold flowers (Tagetes erecta) best known for providing all three macular carotenoids – lutein and both zeaxanthin isomers (RR-zeaxanthin and RS [meso]-zeaxanthin). Lutemax 2020 has demonstrated vision health and performance benefits in multiple clinical studies including LAMA (Lutein, Vision and Mental Acuity) I and II and B.L.U.E. (Blue Light User Exposure).
Lutemax 2020 supplementation was shown to protect photoreceptors against blue light damage. Lutemax 2020 is a marigold extract standardized to contain 20% lutein and 4% zeaxanthin.
Blue Light Protection
Lutemax 2020 is formulated with the optimal ratio (5:1) of lutein and zeaxanthin needed for a healthy macula. The macula can thin with repeated exposure to blue light, but Lutemax 2020 builds it up, forming a shield against blue light.
Prevent Eye Strain
Headaches and tired, blurry, dry or achy eyes can be symptoms of digital eye strain or "computer vision syndrome." Lutemax 2020 is clinically proven to help your eyes filter out the blue light that causes eye strain, helping you stay focused longer.
Antioxidant Protection
Lutein and zeaxanthin have been shown to reduce the risk of age-related macular degeneration (AMD) and cataracts.
Support Brain Function
Lutemax 2020 increases brain-derived neurotrophic factor (BDNF) and improves cognitive performance including composite memory, verbal memory, and sustained attention, psychomotor speed, and processing speed.
Clinically Proven
LuteMax 2020 is proven to keep eyes healthy, build up the macula and produce results in just 8 weeks.
---
European Bilberry – High In Anthocyanins & Antioxidants
European bilberry (Vaccinium myrtillus) has a long history of use for eye disorders and in promoting vision. It is one of the richest natural sources of anthocyanins.
Anthocyanins give bilberry its dark color and high antioxidant content, and they are responsible for the many reported health benefits of bilberry. A good bilberry extract should contain at least 25% of anthocyanins.
Eye Fatigue & Dryness
Bilberry helps to reduce eye fatigue and dryness brought on by video display terminal usage. Symptoms of eye fatigue (such as eye pain, heaviness, discomfort, and foreign body sensation) were reduced to a greater extent in those taking the bilberry extract.
Ocular Microcirculation
Bilberry helps to support healthy blood vessels of the eye. Bilberry improves ocular microcirculation, strengthen ocular capillaries and increase ocular capillaries permeability for enhanced retinal oxygen and nutrient uptake.
Protection
Bilberry has been shown to reduce the risk of age-related macular degeneration (AMD) and cataracts.
High Myopia
Bilberry slows down the axial elongation and stops myopia progression in children with high myopia.
Retinopathy
Bilberry helps to prevent damages that often occurs in the blood vessels of the retina of diabetic or hypertension patients.