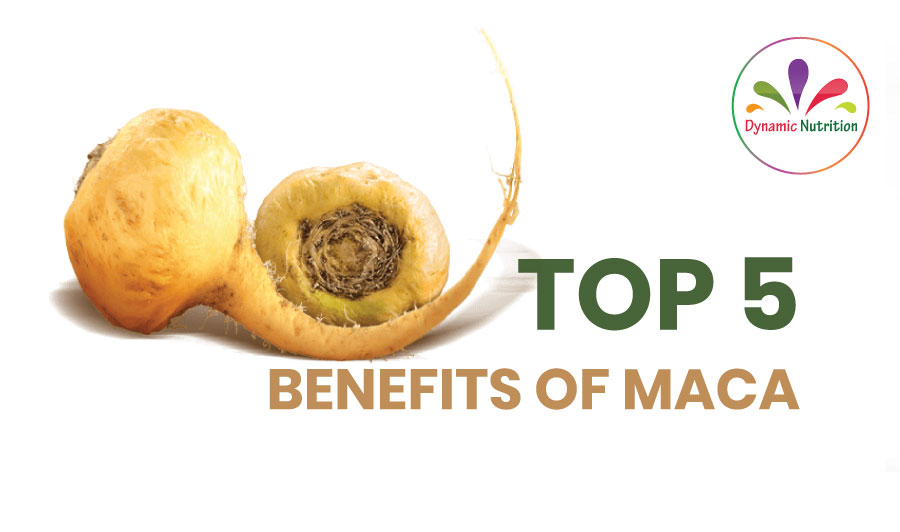 Maca is a Peruvian plant grown in the Andes mountains which has harsh conditions and at very high altitudes — above 13,000 feet (4,000 meters). It is a cruciferous vegetable, meaning that it is related to broccoli, cabbage, and kale. The maca plant, known scientifically as Lepidium meyenii, is sometimes referred to as Peruvian ginseng.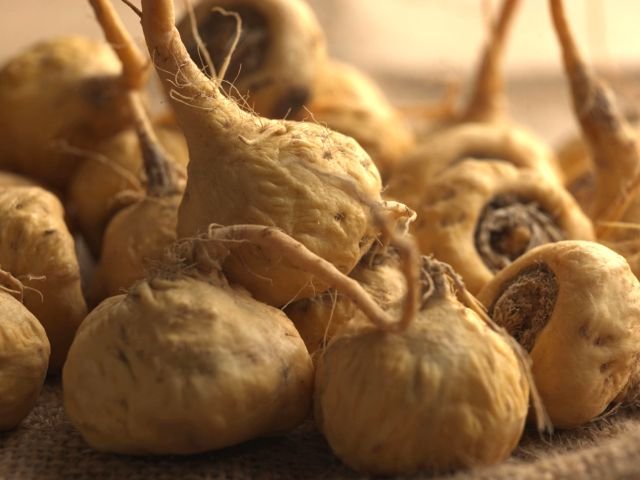 The main edible part of the plant is the root. It exists in several colors, ranging from white to black. Maca root is generally dried and consumed in powder form, but it's also available in capsules and as a liquid extract.
The taste of maca root powder, which some people dislike, has been described as earthy and nutty. Maca is a common ingredient in Peruvian cooking that gives dishes an earthy flavor. Maca root plant can be ground up into a powder and added to meals or smoothies.
Maca Is An Adaptogenic Herb
Adaptogenic herbs (or adaptogens) are "defined as agents that support the body's ability to accommodate varying physical and emotional stresses." It could also be said that these are plants with a nonspecific action that "exert a normalizing influence on the body."
Adaptogenic herbs have traditionally been used in Chinese and Ayurvedic medicine and are still used to support energy levels and the stress response system. Other examples of adaptogens include Cordyceps, Tongkat Ali and Ashwagandha.
1. Maca Root is a Superfood
Maca root is a nutritional powerhouse, providing key macro and micronutrients, and unique plant compounds to support an active human body.
When it comes to macronutrients, dry Maca is 59% carbohydrates, 10.2% proteins, 8.5% fiber, and 2.2% lipids.
As far as micronutrients go, Maca root is an excellent source of vitamins and minerals, including vitamin C, copper, and zinc. And, compared to white potatoes, Maca root boasts higher levels of iron and calcium. It contains all eight essential amino acids and plenty of phytonutrients too.
2. It may increase fertility in men
When it comes to male fertility, sperm quality and quantity are very important. There is some evidence that maca root increases men's fertility. A recent review summarized the findings of five small studies. It showed that maca improved semen quality in both infertile and healthy men.
Maca has been used in Peru for centuries to boost Libido. It is an aphrodisiac food and is also commonly known as "nature's Viagra" due to its ability to stimulate sexual activity. In a 2002 study, Maca was shown to increase libido is because of its unique long-chain fatty acids which trigger pleasure. It is known to increase sexual sensation and correct erectile dysfunction. However, more research is required to confirm these results.
3. Maca Root May Support Energy and Mood
Maca root has been shown to provide sustained energy throughout the day without the jittery crash of caffeine, which can help you feel more awake so you're able to focus on the things that matter.
Maca has also been shown to help athletes maintain their energy. In one study, benefits were seen in a 40 kilometer cycling time trial after two weeks of Maca extract supplementation.
What does Maca root have to do with mood? By maintaining positive energy levels throughout the day, Maca may also help improve mood.
4. Maca May Reduce Prostate Size
The prostate is a gland only found in men. Enlargement of the prostate gland, also known as benign prostatic hyperplasia (BPH), is common in aging men. A larger prostate can cause various problems with passing urine, as it surrounds the tube through which urine is removed from the body.
Interestingly, a few studies in rodents suggest that red maca reduces the prostate size reduces the prostate size.
It has been proposed that the effect of red maca on the prostate is linked to its high amount of glucosinolates. These substances are also associated with a reduced risk of prostate cancer
5. Improving learning and memory
Maca may help improve learning and memory performance.
There is some evidence to suggest that maca can improve learning and memory. For example, a 2011 study found that maca could improve memory in mice.
A 2014 review of the literature suggested that maca may have benefits for learning and memory performance. Researchers suggested that it could be helpful in treating conditions that affect these processes, such as Alzheimer's disease.
It has also traditionally been used by the indigenous people of Peru to improve children's performance in school.
Products you may be interested in
Facebook Comments