The Science Behind Collagen Tripeptide (CTP)
Collagen is found mainly in the skin, bones, joints, tendons, ligaments and blood vessels, and accounts for 30% of the entire protein content in the body, Collagen plays a crucial role for maintaining structure and exercising the functions of above tissues. In other words, most of the organs and tissues can hardly maintain those forms or work properly if collagen in the body is damaged by any physicochemical cause, or is decomposed/ destroyed by microorganisms or enzymes in the body.
The collagen present in food is a chain of about 3,000 pieces of amino acids. Collagen supplements like Collagen Peptides (CP) are made by a chain of about 30 to 100 pieces of amino acids. Those 2 types of collagen are too big to be absorbed directly in the intestine, hence further digestion by gastrointestinal enzymes is needed. Hydrolyzed marine collagen or also known as collagen peptides (CP) used to be considered as a superior form of collagen. But this is no longer the case with the introduction of Collagen Tripeptides.
Collagen Tripeptides (CTP), as the name implies, is composed of a chain of tripeptides (Gly-X-Y) which is a minimum unit of collagen. If we compare collagen to a jigsaw puzzle, CTP would be each puzzle piece. CTP is a minimum unit of collagen consisting of 3 amino acids. Collagen tripeptide (CTP) is a collagen hydrolysate containing a high concentration of tripeptides with a Gly-X-Y sequence, such as Gly-Pro-Hyp.
CTP Is Absorbed By Our Body Without Further Digestion
Collagen-derived small peptides like Gly-Pro-Hyp (GPH) and Pro-Hyp (PH), play a role in various physiological functions. GPH and PH peptides present in collagen tripeptide (CTP) are highly bioavailable.
Collagen peptides have a molecular weight of around 2000 to 5000 dalton and were once considered to be easily absorbable. Collagen Tripeptides (CTP) on the other hand, has a molecular weight of around 300 to 500 dalton.
Collagen Tripeptides (CTP), differs from conventional collagen peptides as CTP is absorbed by the intestinal tract directly without further digestion. In short, CTP has a VIP lane into the bloodstream without requiring extra digestion as other collagen peptides do. Clinical trial as shown major changes in skin texture, moisture and wrinkling at just 1,000 mg per day.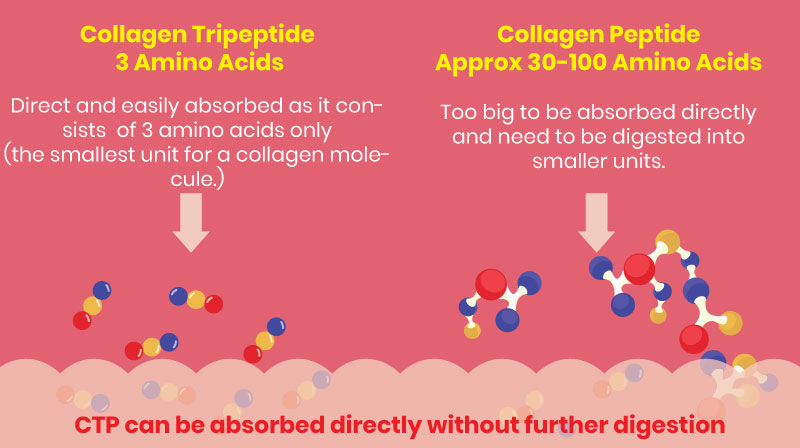 Efficiency In Absorption Of Collagen Tripeptides
CTP is a completely novel ingredient as compared to conventional hydrolyzed collagen. Many commercially available hydrolyzed collagen require doses between 2.5-10g/day, but offer negligible quantities of bioavailable Bi- and tripeptides like GPH and PH. GPH and PH present in CTP are the smallest absorbable units of collagen. Even when CTP is consumed in a much smaller amount, CTP provides greater potential for restorative functions to our skin, joints, bones, cartilages, and tendons.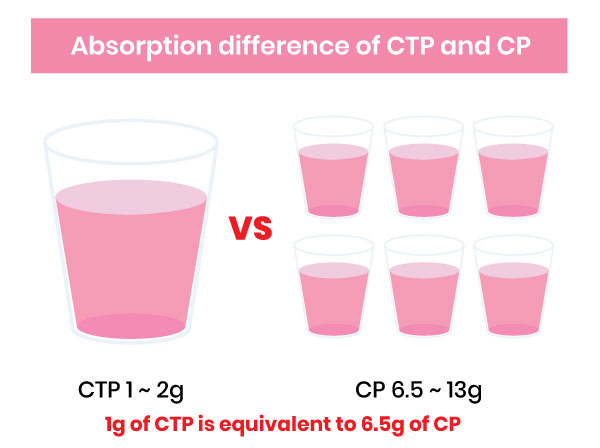 Collagen Tripeptide has an average molecular weight 500Da or less. It also contains GPH which absorbs quickly within 30 minutes in the body when it is ingested.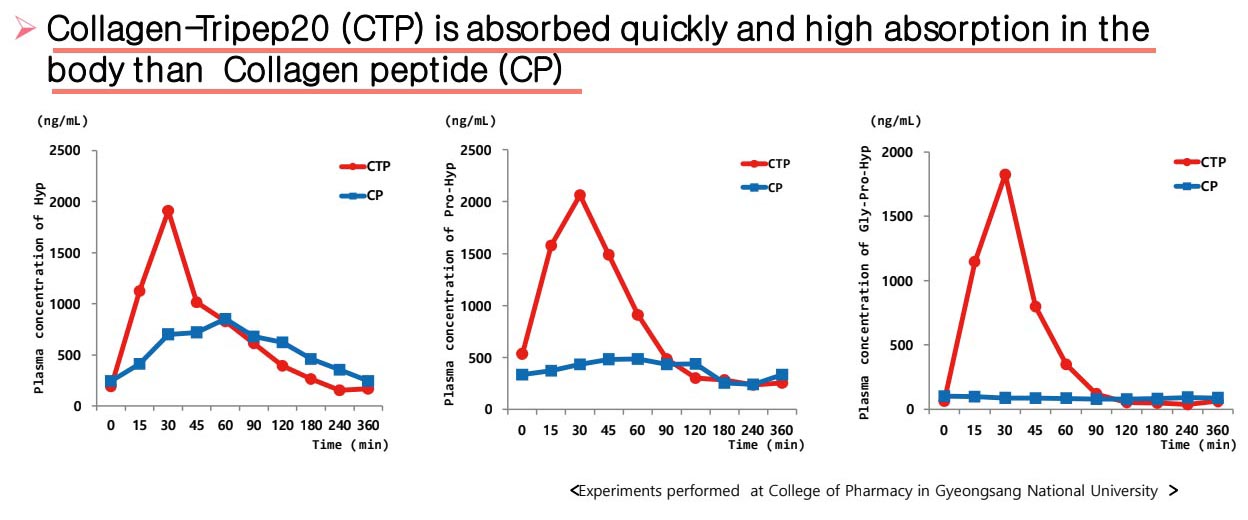 CTP Is Selectively Absorbed By Our Skin, Cartilage & Bones
CTP has an innovative characteristic that is to be absorbed by collagen-affiliated organs such as the skin, bones, cartilages, and tendons preferentially. Moreover, it has been confirmed various functions of CTP such as activating the body's ability to produce new collagen and hyaluronic acid, making bones and tendons stronger, and so on.

According to animal clinical studies done in South Korea and Japan, it was verified that the absorption of CTP in the body was incorporated into the skin, bones, cartilages and tendons preferentially. This suggests strongly that CTP accordingly contributes to the structure of the connective tissues.
CTP Works Better Than CP At A Lower Dosage
According to internal studies done by Amicogen Inc, Korea, CTP has better effect in terms on reducing skin wrinkles and improving skin moisture.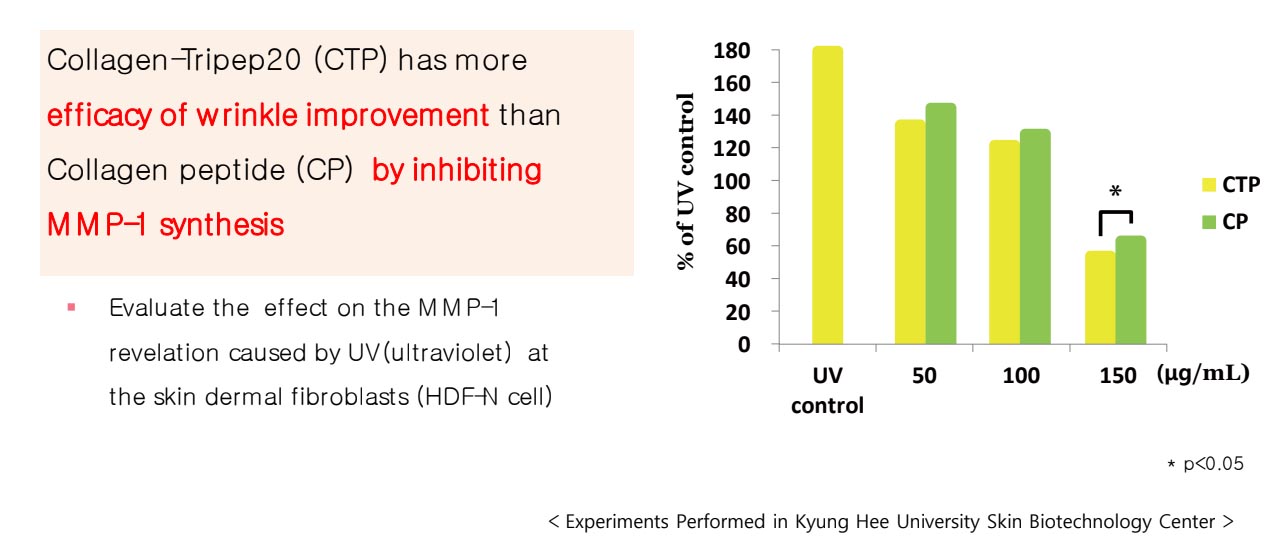 The oral administration of CTP significantly inhibited skin wrinkle formation induced by UV-B irradiation by inhibiting MMP-1 synthesis as compared to CP. MMP-1 is a major marker of UVB-induced wrinkle as well as skin-inflammation.
---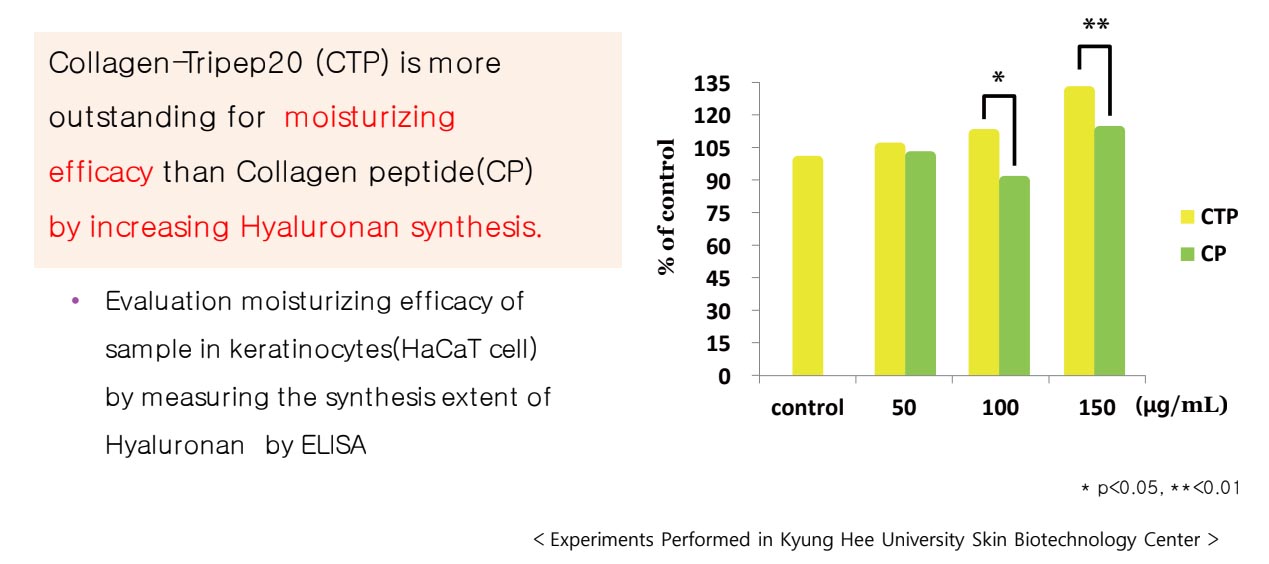 CTP increased the production amount of not only collagen but hyaluronic acid as well by activating human normal skin-derived fibroblasts. CTP will promote hyaluronic acid production in the skin and joints, and those effects will keep our skin healthy and make our joints move more smoothly. Hyaluronic acid is a type of mucopolysaccharide, and is found largely in connective tissues in the body. It plays a key role along with collagen to maintain healthy skin and joints.
CTP Works Really Well For Joints & Bones
You have probably heard this before: Type 1 and 3 collagen works for skin, hair and bone while Type 2 collagen works mostly for joints. The good news is there is no need to take Type 1/3 and Type 2 collagen separately – collagen tripeptides works cover both cases because the absorption of CTP in the body was incorporated into the skin, bones, cartilages and tendons preferentially.
According to Naraoka et al. Arthritis Research & Therapy 2013, periodical injections of CTP delayed progression of cartilage degeneration of early osteoarthritis induced by anterior cruciate ligament transection in rabbits. This effect appears to be exerted by promotion of type II collagen synthesis predominantly.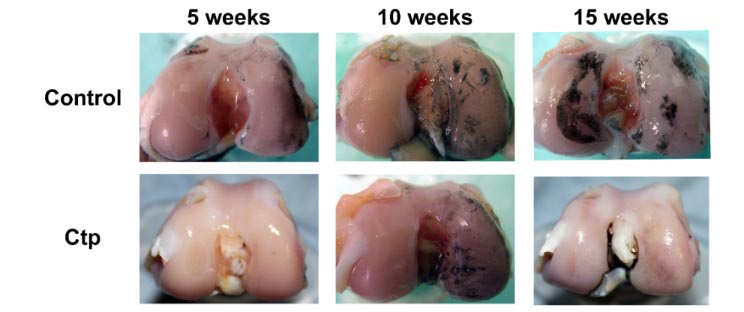 Macroscopic observation of articular cartilage of medial femoral condyle stained with India ink.
---

According to internal clinical test done by Amicogen Inc, Korea on bone density in mice, CTP can significantly increases in BMD and BMC levels as compared to control group.
Product you may be interested in
Facebook Comments