What is Marine Collagen?
Collagen is the most abundant protein in our body, our bodies produce less and less of it with each passing year. While marine collagen is a pure form of hypoallergenic protein produced from the skins of fish. Fish skins remaining from food production are thoroughly washed, then hydrolyzed by an acid and a food grade enzyme to yield marine collagen peptides.
Marine collagen has a low molecular weight for easy digestion and absorption. It is highly bioavailable Type 1 collagen. Our body's natural collagen production decreases as we age. Consuming marine collagen may therefore be beneficial to fighting the aging process and supporting the body inside and out.
Top 5 Benefits of Marine Collagen
Marine collagen peptides are comprised of two types of collagen, types I & III. Type I and Type III collagen benefits include promoting healthy hair and nail growth, improving skin elasticity and hydration, supporting joint health and function, bone strength and healthy body composition.
Slows and Reverses Aging
The collagen in our skin begins breaking down at age 21 and continues to be degraded throughout adulthood, leading to saggy, wrinkly skin as we get older. 70% of our skin is made of Type 1 collagen. Clinical trials have shown for those who supplement with marine collagen have a decrease in wrinkles and improved skin hydration and firmness.
Improve Cellulite Morphology
Dietary supplementation with specific collagen peptides has been shown to have a body mass index-dependent beneficial effect on cellulite morphology and appearance.
Support Bone Strength
The loss of bone mass is one of the most common signs of aging and leading to osteoporosis. Calcium and phosphorus is essential to maintaining bone strength. However, these minerals are difficult to absorb, resulting in deficiencies and putting us at risk for bone loss and bone disease. Studies have shown that marine collagen peptides may help the absorption of calcium and other minerals that are essential for bone strength.
Superior Protein Source for Weight Management
Marine collagen is a pure protein source that does not contain any carbs, sugar or fat. Consume marine collagen daily may help to suppress appetite by keeping you feeling full longer and thus can help promote weight loss. 
Antibacterial Properties
Recent research has discovered that peptide fragments contained within marine collagen have antibacterial properties. Collagencin, a peptide derived from collagen, has been found to inhibit the growth of infection and disease causing bacteria. A 2016 study showed collagencin completely inhibits the growth of the common bacterium Staphylococcus Locus, commonly known as staph infection, and partially inhibits the activity of other bacteria, including E. Coli.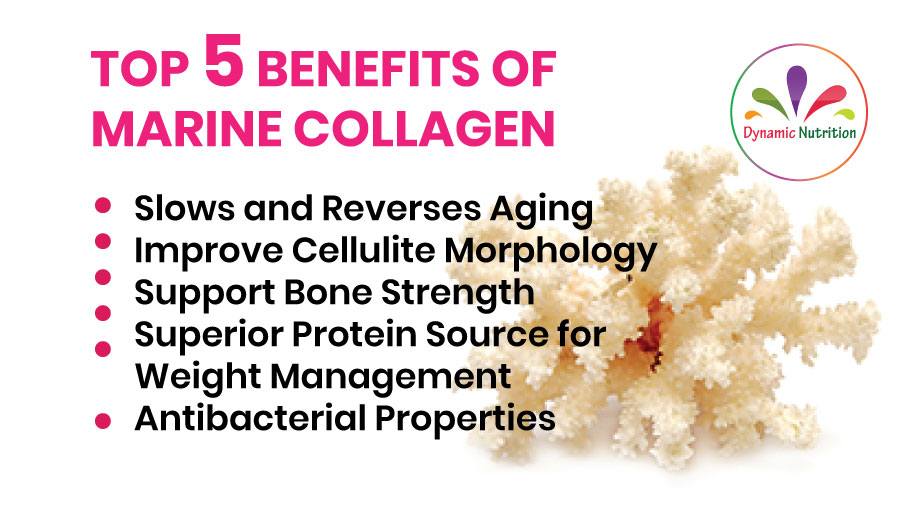 Product you may be interested in
Facebook Comments