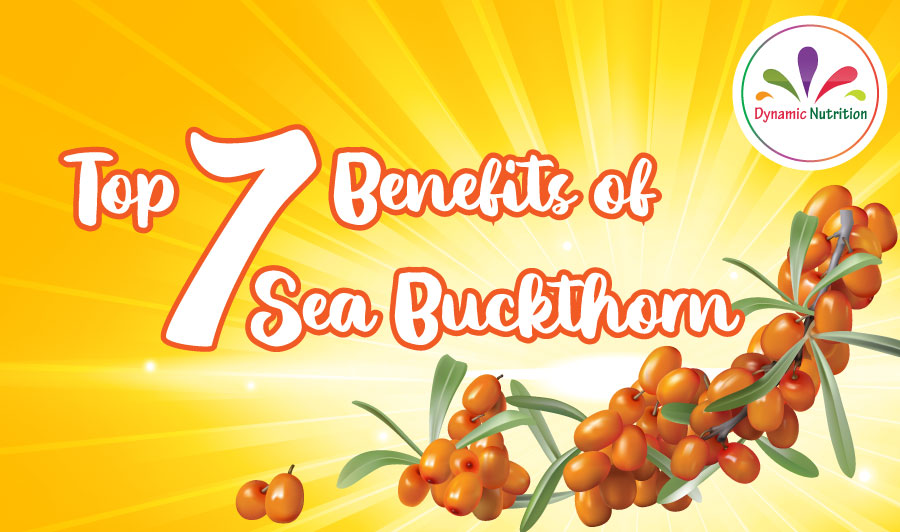 Sea buckthorn oil has been used for thousands of years as a natural remedy against various ailments. Sometimes referred to as the holy fruit of the Himalayas, sea buckthorn can be applied to the skin or ingested.
A popular remedy in Ayurvedic and traditional Chinese medicines, it may provide health benefits ranging from supporting your heart to protecting against diabetes, stomach ulcers and skin damage.
Top 7 Benefits of Sea Buckthorn
1. Promotes Heart Health
Sea buckthorn protects against cardiovascular disease. The total flavonoids, seabuckthorn flavones and other active substances extracted from sea buckthorn fruits and sea buckthorn leaves can reduce hypertension, soften blood vessels, improve blood circulation, etc., prevent and alleviate ischemic cerebrovascular disease, and improve blood supply and oxygen supply and other effects. It also can relieve angina and enhance heart function.
2. Protect Against Diabetes
Sea buckthorn may also help prevent diabetes. One small human study notes that sea buckthorn may help minimize blood sugar spikes after a carb-rich meal. This is because frequent, long-term blood sugar spikes can increase your risk of type 2 diabetes, preventing them is expected to reduce your risk.
3. Boost Immune System
Sea buckthorn may help protect your body against infections. Experts attribute this effect, in large part, to the high flavonoid content of the oil. Flavonoids are beneficial plant compounds which may strengthen your immune system by increasing resistance to illnesses. In one test-tube study, sea buckthorn prevented the growth of bacteria such as E. coli. In others, sea buckthorn offered protection against influenza, herpes and HIV viruses.
4. Lose Weight and Fight Disease
Sea buckthorn recently received praise from Dr. Oz as studies have shown its ability to contribute to weight loss by preventing the storage of excess fat. With weight loss also comes a decrease of diseases like heart disease and diabetes.
It's ability to lower levels of CRP (C-reactive protein), a protein associated with inflammation, has also linked sea buckthorn to reduced levels of cardiovascular disease and diabetes.
Sea buckthorn oil contains a good amount of antioxidants, beneficial plant compounds that may also help defend your body against microbes.
5. Anti-inflammatory
Sea buckthorn oil extracted from sea buckthorn is rich in Vitamin E, carotene, carotenoids, β-sitosterol, unsaturated fatty acids etc. It can promote the metabolism of the body, facilitate the recovery of damaged tissues, and also develop the inflammation of subcutaneous tissues and enhance inflammation. The center's anti-inflammatory effect, as well as a significant promotion of ulcer healing. Therefore, sea buckthorn oil is clinically effective against radiation damage, burns, scalds and bedsores.
Sea buckthorn oil treat burns and scalds. It has the magical effect of promoting tissue regeneration and epithelial tissue healing. It is used to treat scalds, burns, cuts and frostbite, and has achieved excellent results. It is not only treat mild burns and scalds, but also II and III burns, and generally does not leave scars. It is also effective for chemical burns.
6. Protect Liver
Sea buckthorn contains organic acids such as malic acid and oxalic acid. It can relieve the toxicity of antibiotics and other drugs and protect the liver. Lecithin and other phospholipids in sea buckthorn are a kind of biologically active ingredient which can promote cell metabolism, improve liver function, and prevent fatty liver and cirrhosis. In addition, sea buckthorn oil has obvious protective effects on the heart, liver and bone marrow.
7. Beauty Skin
The content of free fatty acids, hydrocarbons, total sterols, phospholipids, vitamin E, vitamin A, and carotenoids in sea buckthorn oil is very high, which is several times or even dozens of times higher than other plants. In addition, the sebum component in sea buckthorn oil is completely integrated with the vitamins E, A, and provitamins, and is easily absorbed by the skin. It has a skin care effect similar to sebum, comprehensive nutrition, and significant skin care effects.
People who suitable to take Sea Buckthorn
The sea buckthorn fruits has the effects of relieving cough and resolving phlegm, strengthening stomach and digesting food, promoting blood circulation and removing blood stasis. Modern medical research shows that sea buckthorn can reduce cholesterol, relieve angina pectoris, and prevent and treat coronary atherosclerotic heart disease. Therefore, people who suitable to take Sea Buckthorn are:
Middle-aged and elderly people, especially hypertension and hyperlipidemia
Those who are vulnerable to colds
Patients with diabetes and hyperglycemia
Product you may interested in
Facebook Comments