HaiRegain
Natural Formulation For Hair Nourishment, Growth & Repair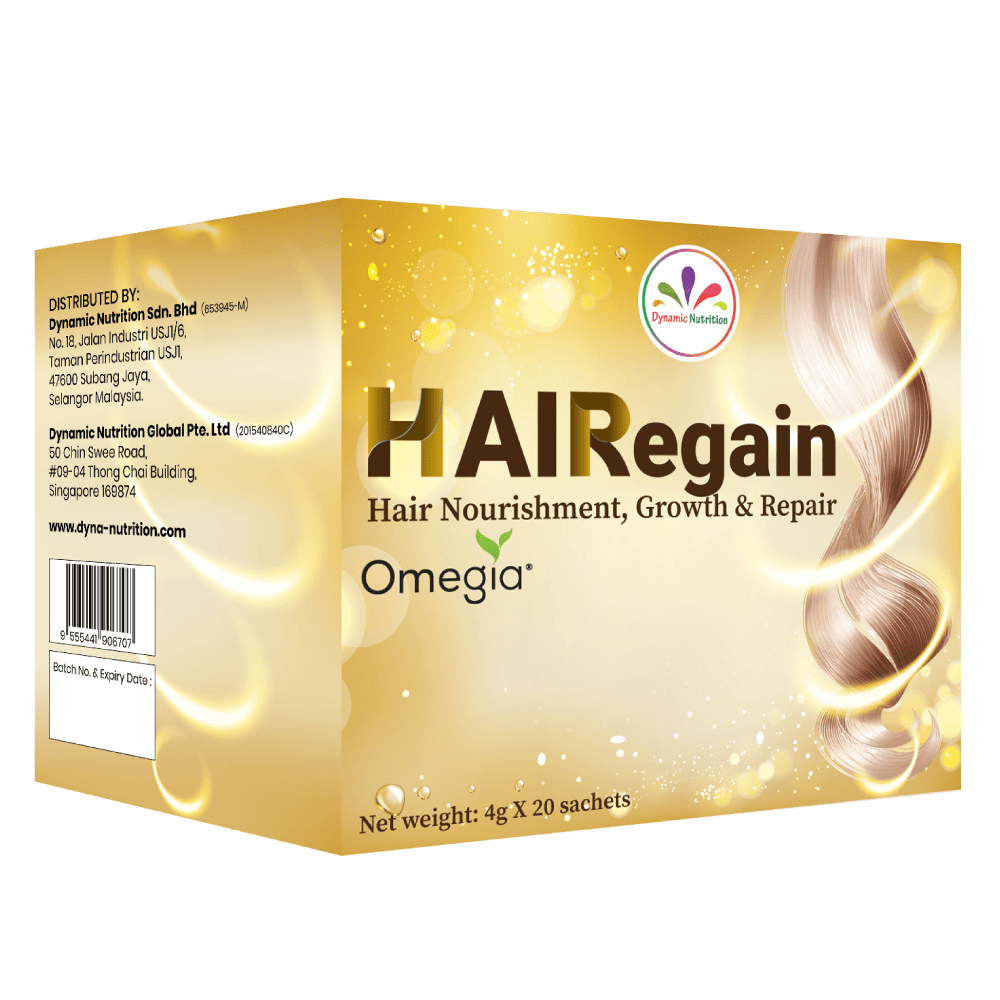 What is HAIRegain?
HAIRegain is a natural formulation combining Oryza Polyamine rice germ, OMEGIA® Sea Buckthorn, Lalmin® Zn100 zinc-enriched nutritional yeast, L-Cystine and horsetail extract.
Oryza Polyamine is a patented and clinically proven Japanese ingredient produced from rice germ that promotes hair growth and shine.
OMEGIA® Sea Buckthorn is rich in vitamins, minerals and Omega 3, 6, 7 and 9. Sea buckthorn improves hair texture, elasticity and appearance.
Zinc prevents hair loss by blocking the hormone DHT (Dihydrotestosterone). L-Cystine increases hair volume and density. Horsetail extract contains bioactive silica which stimulates hair growth.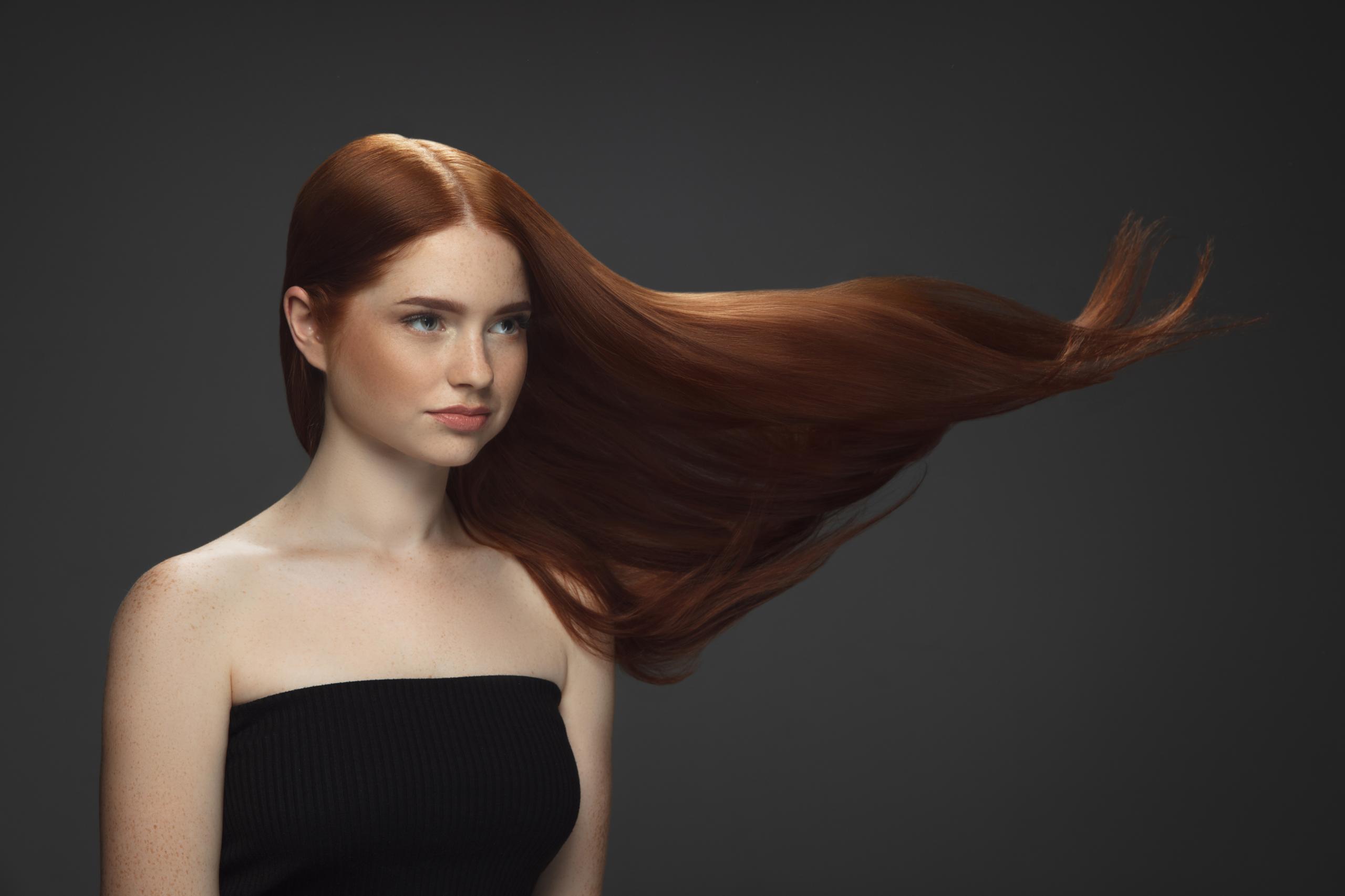 Improves hair growth, elasticity & texture
Strengthens hair structure
Contains all the vitamins & minerals for healthy hair maintenance
Oryza Polyamine Rice Germ
Polyamines are actually all around us. They are natural compounds that are found in all living organisms, including humans and plants. Polyamines are abundantly available in foods like rice germs, soybeans, and mushrooms. However, the content of polyamines in the body declines with age regardless of the consumption of food rich in polyamines.
Polyamines contain spermidine, putrescine, and spermine, which have been linked to having antioxidant and anti-inflammatory properties. Polyamines play a significant role in cell growth, survival, and proliferation.
Oryza Polyamine is a patented and clinically proven Japanese ingredient produced from rice germ that promotes hair growth and shine. Its molecular weight is less than 250, indicating that it absorbs more quickly and is efficiently distributed and utilized by the body. Oryza Polyamine helps to extend the hair follicle's growth phase, resulting in increased hair growth. It can also help to strengthen hair roots and follicles, preventing hair loss.
Clinical Test:
Healthy individuals (10 female subjects, aged 20-60) were given hair treatment product containing Oryza Polyamine for daily use for a duration of 2 weeks. A questionnaire survey was conducted to assess the quality of the hair treatment product containing Oryza Polyamine. There was 87% improvement on hair texture reported which include improvement in hair luster, shine of hair.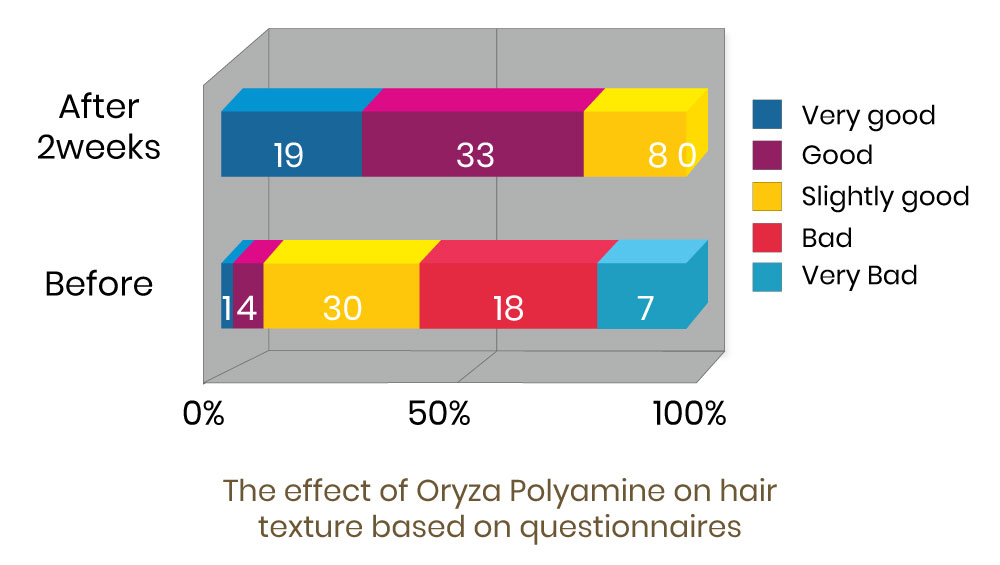 Benefits of Oryza Polyamine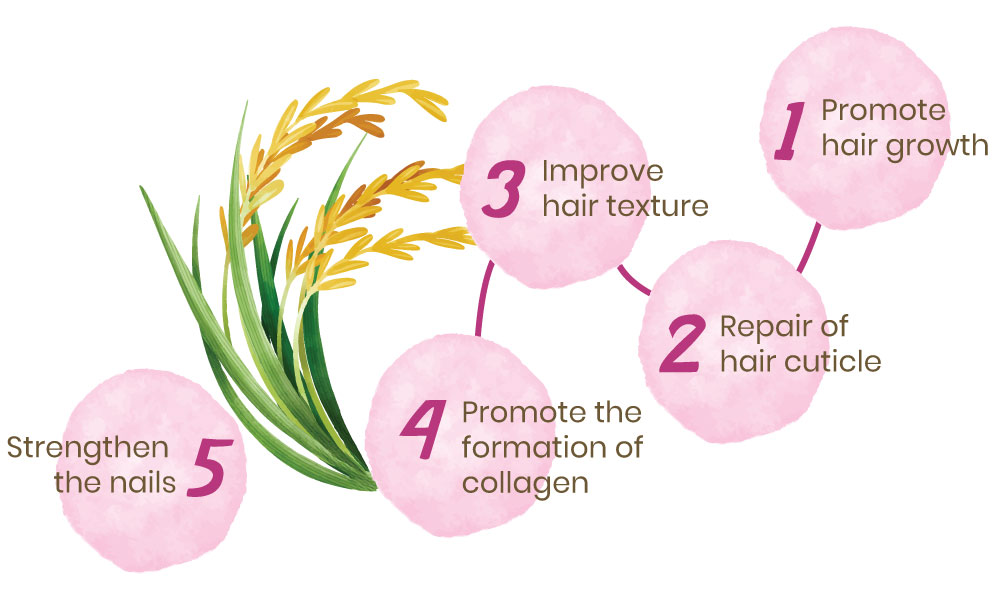 OMEGIA® Sea Buckthorn – The Complete Vegan Omega 3-6-7-9 Balance
Sea buckthorn or Seaberry, known as "holy fruit" in Tibet, is found in centuries-old medicinal texts in Tibet and China. Rich in essential fatty acids and vitamins, the berries and leaves are chock full of vitamins C, E, and B, beta carotene, citric acid and malic acid. A couple of compounds that are of special interest are anthocyanins (antioxidants in nature) and palmitoleic acid (a component found in skin lipids).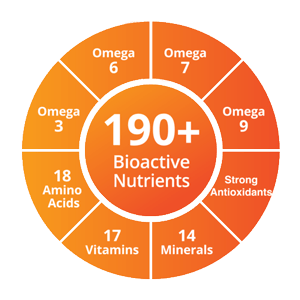 Rich in Nutrients
Sea buckthorn is rich in various vitamins, minerals and beneficial plant compounds. Its berries boast potassium, calcium, magnesium, iron and phosphorus. They also contain good amounts of folate, biotin and vitamins B1, B2, B6, C and E. More than half of the fat found in sea buckthorn oil is mono- and polyunsaturated fat, which are two types of healthy fats.
Omegia® is a unique standardized formula consisting of organic sea buckthorn fruit and seed oil. It has a balanced ratio of all the unsaturated fatty acids: Omega-3-6-7-9.
Seabuckthorn For Healthy Hair
Sea buckthorn has shown effectiveness in making hair healthier, both in appearance and alleviating certain issues. It also helps restore elasticity, which is necessary to give your hair body, bounce and curl retention. It also helps make rough and coarse hair textures smoother and more manageable. The presence of folates and biotin also contribute to stronger hair follicles, thus inhibiting hair loss and shedding to a considerable extent. The oxidative effect of this remedy can help reverse aging signs in your mane, delaying graying of hair and loss of texture.
Clinical Test:
A 6-month oral supplementation with Omega 3, 6 and antioxidants show improvements in hair texture and fullness. In 120 participants, almost 90% reported reductions in hair loss and over 78% reported improvements in hair thickness (hair diameter), fullness (hair density & volume), shininess and softness.

Lalmin® Zn100 Zinc-Enriched Nutritional Yeast
Lalmin® Zn100 is a zinc-enriched nutritional yeast (Saccharomyces cerevisiae) in which over 90% of the zinc is organically bound to the yeast and contains standardized levels of zinc. It is a patented technology originating from Canada.
Zinc-enriched nutritional yeast displays high bioavailability when compared to other common zinc sources. It is proposed to be more slowly absorbed by the human body, with a possible "time-release" behaviour.
Zinc Works As A DHT Blocker
Zinc is an excellent nutrient for healthy hair growth because it can help to block the hormone DHT (Dihydrotestosterone). DHT, a derivative of testosterone, is the enemy of hair follicles on your head. To put it simply, under certain conditions DHT wants the hair follicles dead.
Studies have shown that Zinc may inhibit 5 alpha-reductase, an enzyme that plays a role in producing the hormone dihydrotestosterone (DHT). Hence, Zinc deficiency may cause DHT levels to go up resulting in hair loss. Zinc deficiency is one of the most common reasons that men and women lose their hair as they get older.
In addition to Zinc, Lalmin® Zn100 also contains a range of amino acids, vitamins and minerals including Vitamin B-Complex, folic acid, biotin, iron, phosphorus and potassium. These are all essential nutrients for healthy hair growth!
L-Cystine – Strengthening The Hair Structure
L-Cystine is a major constituent of keratin, a type of structural protein found in your hair, skin, and nails. L-Cystine is produced in the human body and also present in food like meat, lentils, oatmeal, eggs, low-fat yogurt, sunflower seeds, and cheese.

L- Cystine strengthens and maintains keratin structures, preventing the hair structure to weaken and prone to breakage. Studies have observed that L- Cystine therapy showed a decrease in hair loss and increase in hair volume and hair density.
Horsetail – Rich In Bioactive Silica
The use of Horsetail as a medical herb dates back to the times of the Greeks and the Romans. There are many benefits of horsetail, and it really stands out as a hair, skin, and nail strengthener.
Horsetail contains a high level of silica which is a compound that strengthens both nails and hair. Because of its silica content, horsetail is also useful when trying to stimulate hair growth. The herb rejuvenates your hair, adding sheen to the appearance and strength to the hair shafts. It also contains selenium and cysteine, which are known to promote healthy hair growth. Both of these substances contribute to healthier hair and prevent free radicals from damaging the cells.
Horsetail can also improve blood circulation, leading to the improvement of hair follicles, scalp and to help stimulate hair growth. Therefore, it's also suitable for men and women struggling with thinning.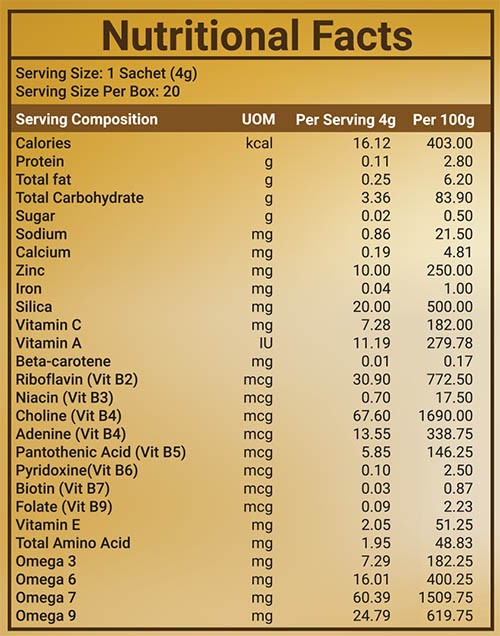 INGREDIENTS:
Oryza Polyamine rice germ powder, Omegia® whole sea buckthorn fruit powder (mixture of organic sea buckthorn juice and organic sea buckthorn oil), passion fruit juice powder, zinc-enriched nutritional yeast, horsetail extract powder, L-Cystine and stevia.
Omegia® is registered trademarks of PUREDIA.
Net weight: 4g x  20 sachets.
STORAGE:
Keep in cool dry place. Avoid from direct sunlight.
DIRECTION:
Mix 1 sachet of HAIRegain powder in 125ml (1/2 cup) water or juice (below 50°C).