CORDYZYME
Enzymes Peptide with Cordyceps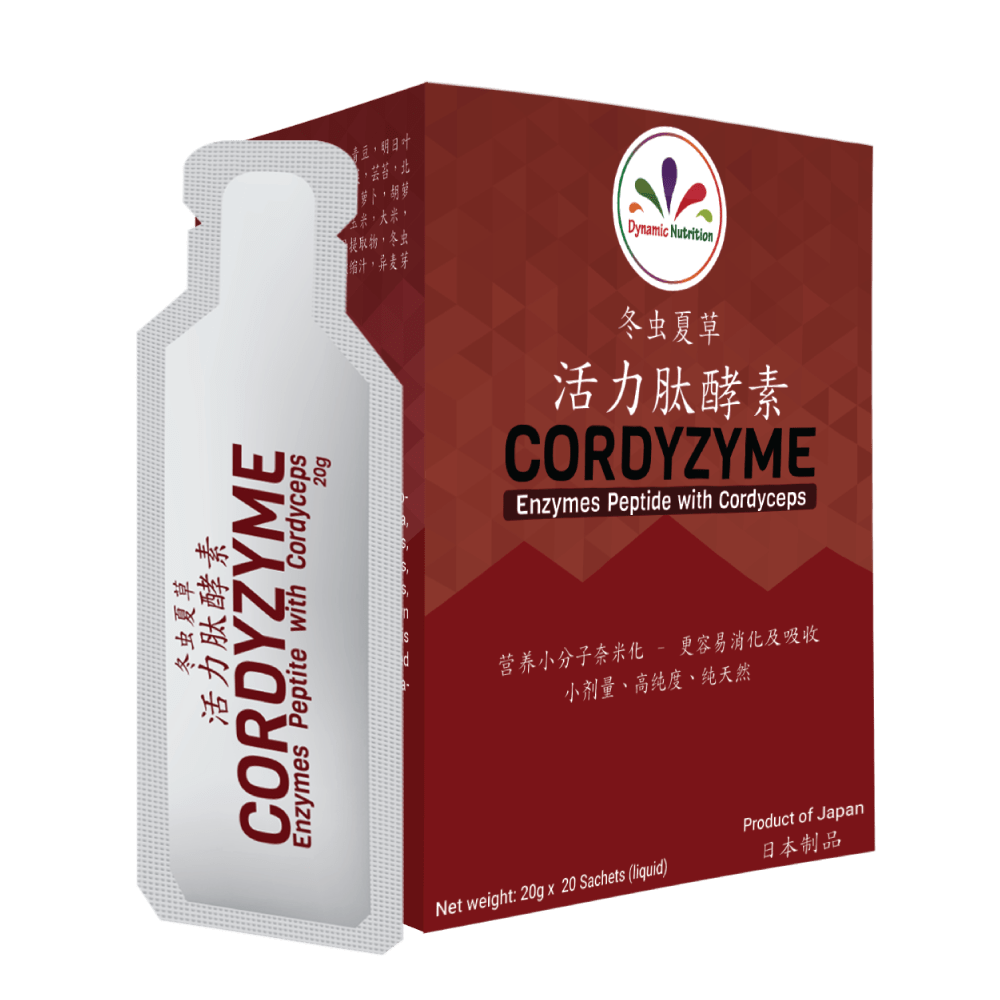 What is CORDYZYME Enzyme Peptide?
CORDYZYME is a highly-prized concentrated pure plant-based enzyme fermented with over 40 kinds of carefully selected fruits, vegetables, edible herbs, root crops, grains, nut fruits, seaweeds and cordyceps.
They are matured at a low temperature and is rich in ENZYME PEPTIDE which has a low molecular weight for fast and efficient absorption by our body. 
It is made with the original BIOZYME fermented enzyme manufactured by Japan Bio Science Laboratory Co., Ltd.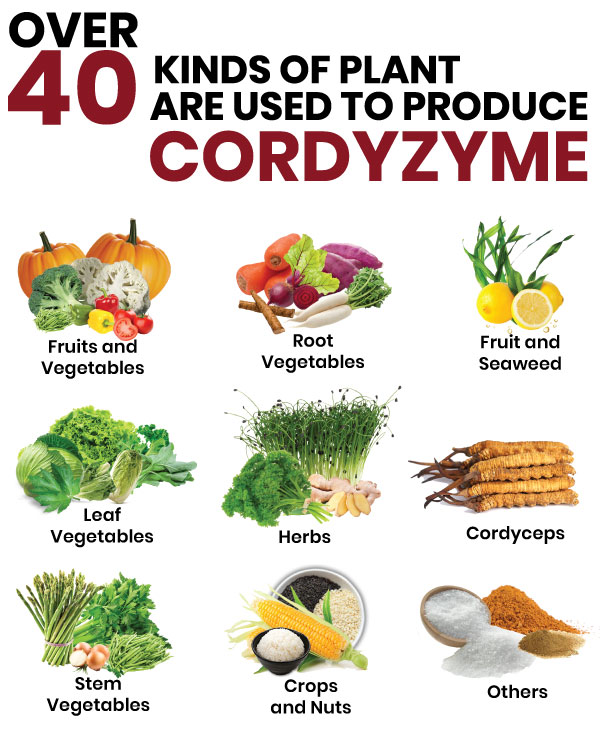 Fruits and Vegetables: capsicums, tomatoes, pumpkins, cauliflowers, broccoli, green beans, etc.
Leaf Vegetables: Ashitaba, cabbage, kale, mulukhiyah, lettuce, spinach, brassica pekinensis, etc.
Stem Vegetables: asparagus, onions, green beans, celery, etc.
Root Vegetables: burdocks, white radishes, carrots, beets, purple sweet potatoes, etc.
Herbs: parsley, cress, ginger, etc.
Crops and Nuts: maize, rice, sesame, etc.
Fruit and Seaweed: lemons and kelp
Cordyceps: Cordyceps sinensis mycelium
Others: brown sugar, mineral salt, and yeast extract
Net weight: 20g X 20 sachets (liquid)

Directions: Consume 1 to 3 sachets daily before meals. Recommended to consume directly from the sachet.
No artificial flavoring, coloring or sweeteners. Vegetarian Formula.
Product of Japan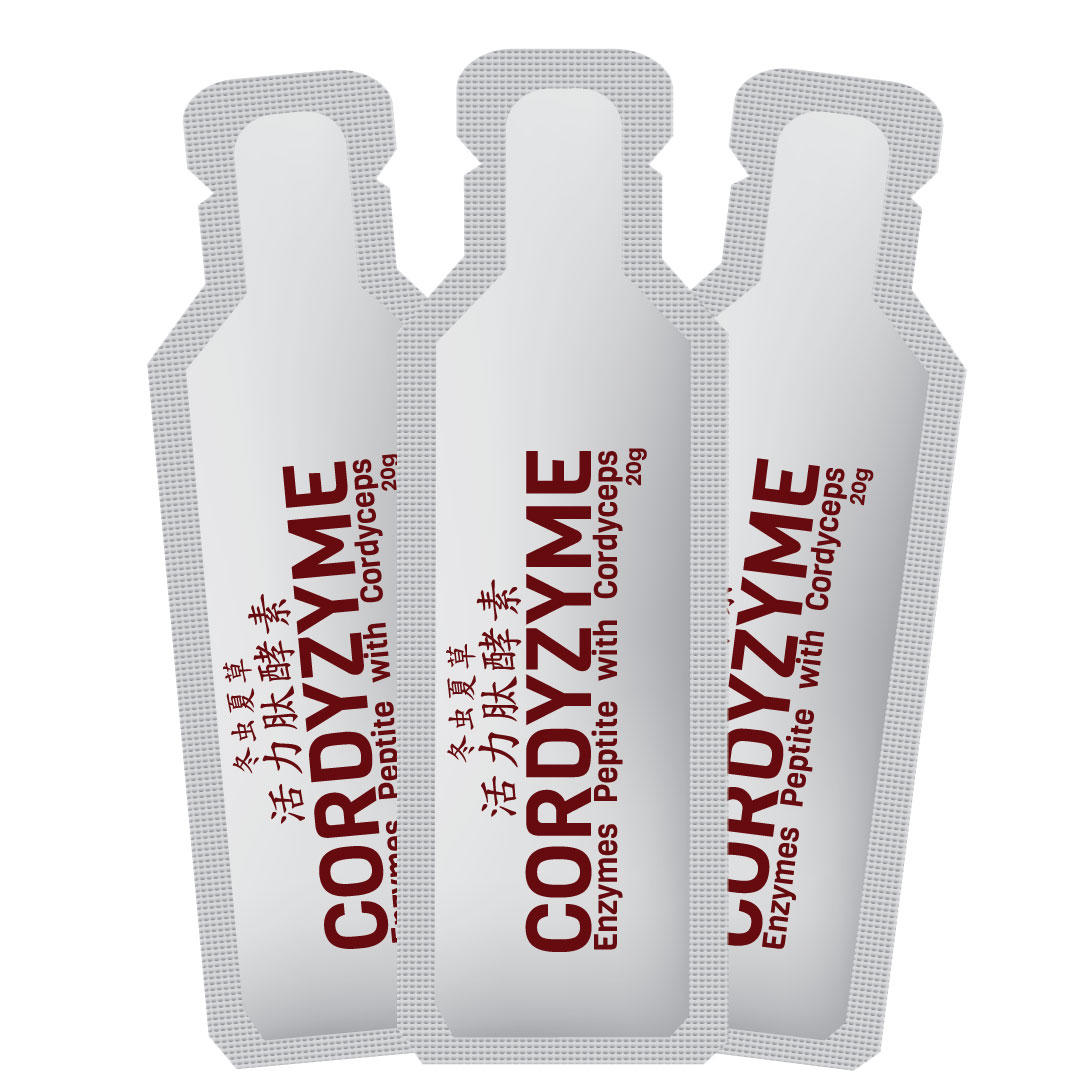 Improves blood circulation and promotes detoxification
Improves skin complexion resulting in healthier and clearer skin
Improves digestion and the absorption of nutrients
Improves overall well-being, metabolism and boosts energy
We need to eat foods that contain abundant amounts of enzymes such as fermented foods. However, enzymes are difficult for our body to absorb as it usually has high molecular weight. They are usually prone to heat which reduce its efficacy.
CORDYZYME overcome this by using a unique 2 stage low temperature fermentation using Bacillus sp. Biozyme, the original bacillus and has a special ability that produces active ingredients such as enzyme or polysaccharide.
The two-stage fermentation with low temperature turns enzyme into enzyme peptides, which has a low molecular weight and easy to absorb. We use over 40 kinds of carefully selected vegetable derived raw materials (fruit, vegetables, edible herbs, stem vegetables, root crops, herbs, grains, nuts, seaweeds, etc.) to ferment and mature at a low temperature.
Enzymes Peptite with Cordyceps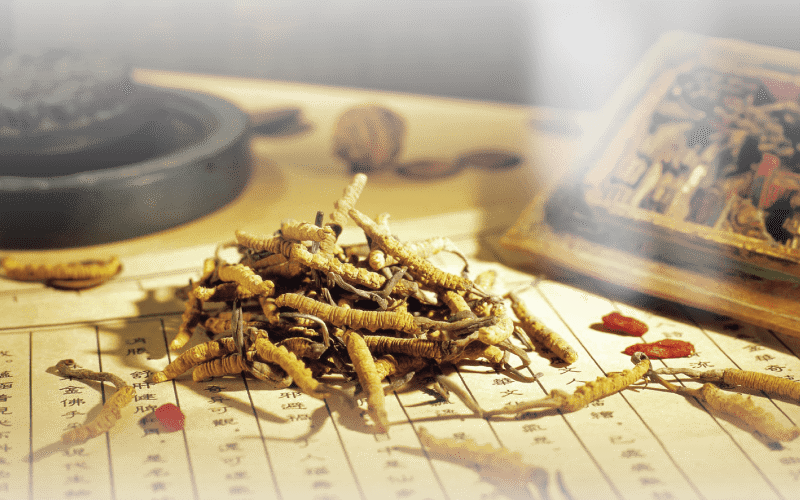 Highly bioactive and bioavailable for easy absorption
Pack in convenient individual sachets
CORDYZYME

Information Facts
Why is enzyme important to our body?
Cells in a human body keep the body functioning by making hundreds of millions of chemical reactions happen constantly. "Enzymes" help the chemical reaction happen and enable cells to carry out their work properly, which makes us capable of keeping our bodies healthy.
Because of aging or unbalanced dietary habits, the ability of our body to produce enzymes deteriorates. Enzyme deficiency causes our body to be highly susceptible to free radical attacks that may lead to cellular damage, organ dysfunction, weak immunity and resistance, indigestion, slow metabolism, and other afflictions. At the same time, a body that is deficient in enzymes may also be more sluggish in excreting unwanted toxins, causing it to accumulate and render our body more acidic.
One of the very first symptoms of enzyme deficiency is indigestion, lethargy, fatigue, poor appetite, backache, shoulder soreness, dysphoria, insomnia, inability to concentrate, joint pain, weak resistance, bad breath and anxiety.
Remember the time when olden days people rarely got sick? The secret lies in the consumption of enzyme-rich food — and now, you can do it too!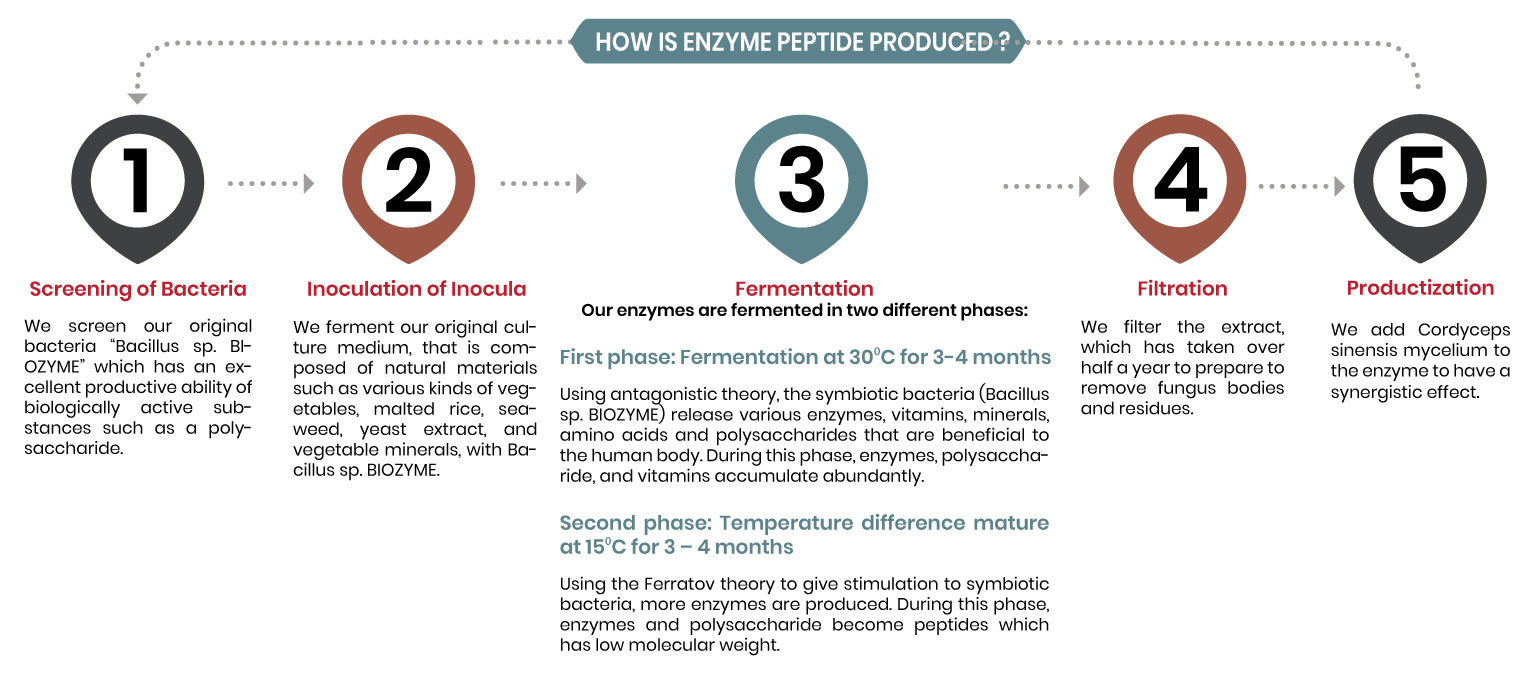 List of Nutrients in CORDYZYME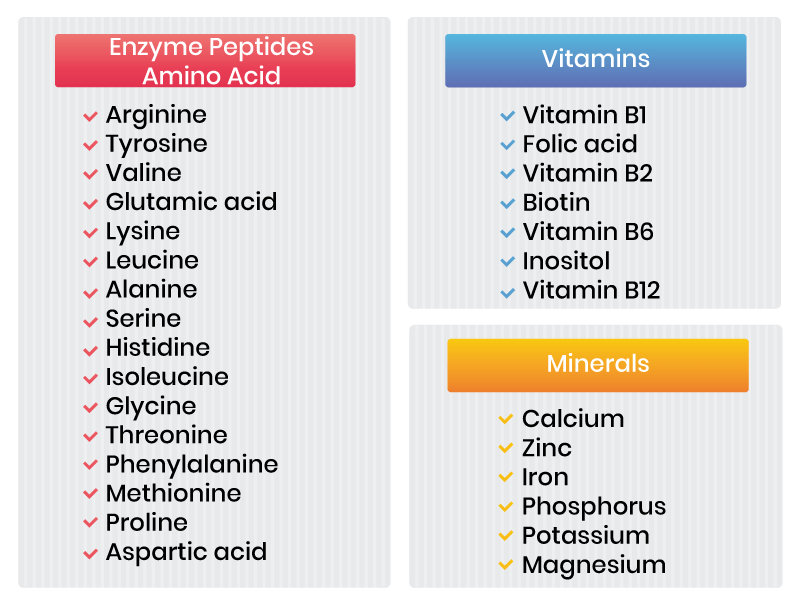 How does enzyme peptide compare to other enzymes in the market?
Cordyceps Sinensis
Cordyceps Sinensis is also known as the caterpillar fungus and sometimes even the winter worm. It is typically mistaken to be a mushroom but it is actually a parasitic fungus. It is also known as the zombie caterpillar and is native to China and Tibet. It has been known to be used as a magic herb for years in the Chinese and Tibetan culture due to the immense health benefits it has.
Who should take CORDYZYME?
Those who frequently eat outside food
Those who have little intake of vegetables and fruits
Those who feel bloated easily
Those who has indigestion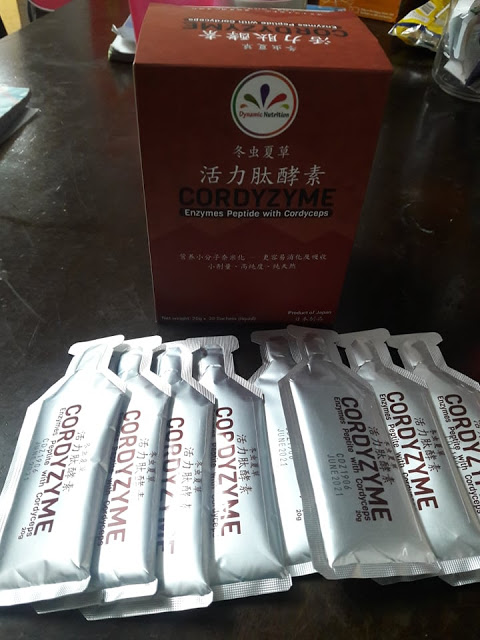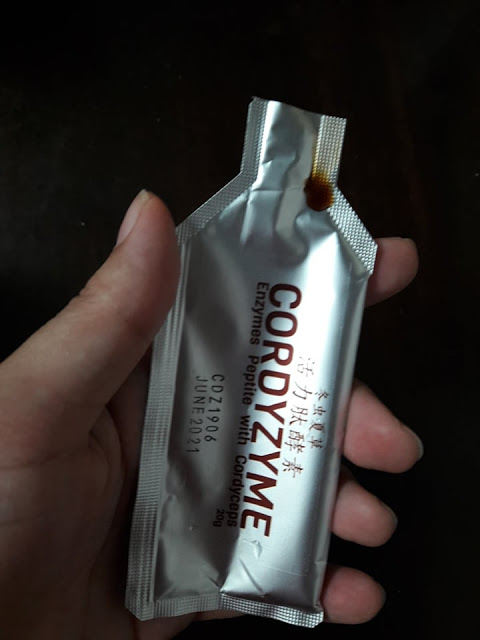 "After taking this for the past few days, I feel less fatigue, less bloated and more energetic. Highly recommended for those who always feel tired easily, feel bloated, eat less vegetables. If you have any of these symptons, please try Cordyzyme."
http://yeelinda.blogspot.com/2019/07/cordyzyme-enzymes-peptite-with.html
Linda Yee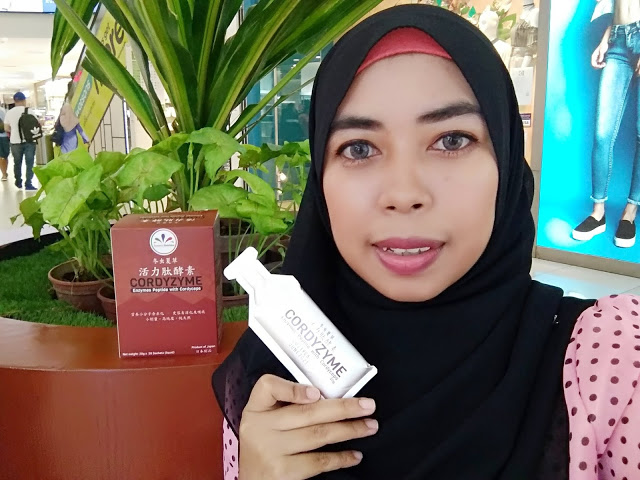 "Dah consume CORDYZYME dan setakat ni Qiss dapat rasa ada perubahan kat badan Qiss. Badan rasa lebih ringan dan aktif. Sebab Cordyzyme ni membantu melancarkan perjalanan darah dan buatkan kita senang detoks."
https://www.qisstiera.com/2019/07/amalkan-cordyzyme-untuk-detoks-dan.html
Balqis Athirah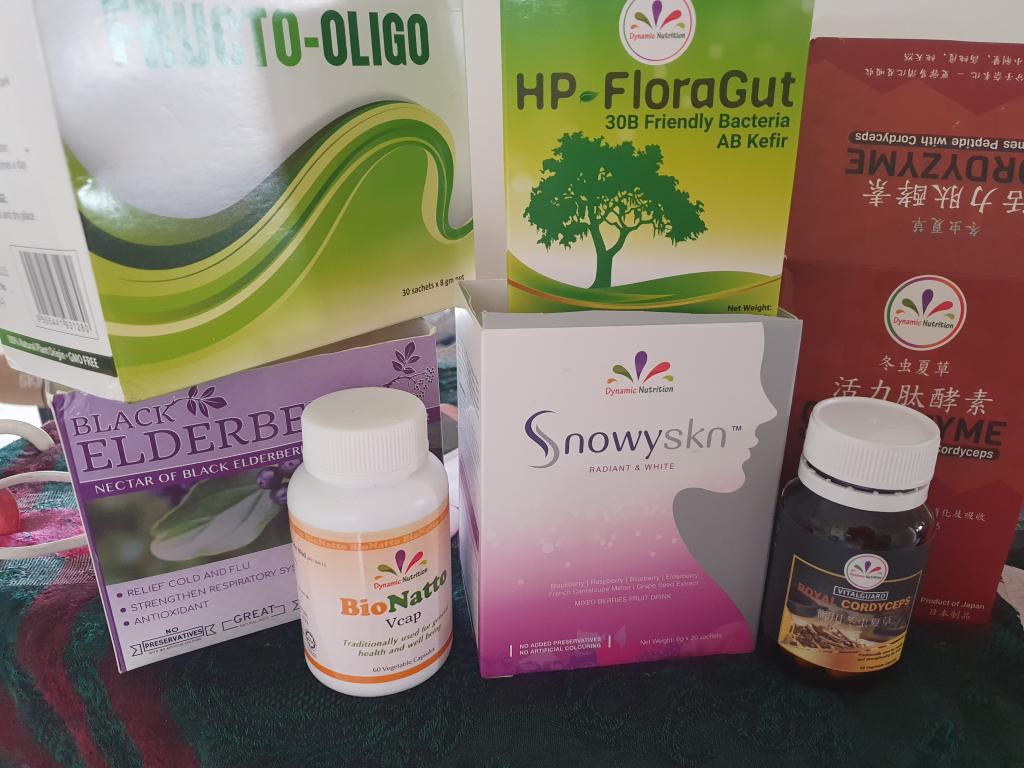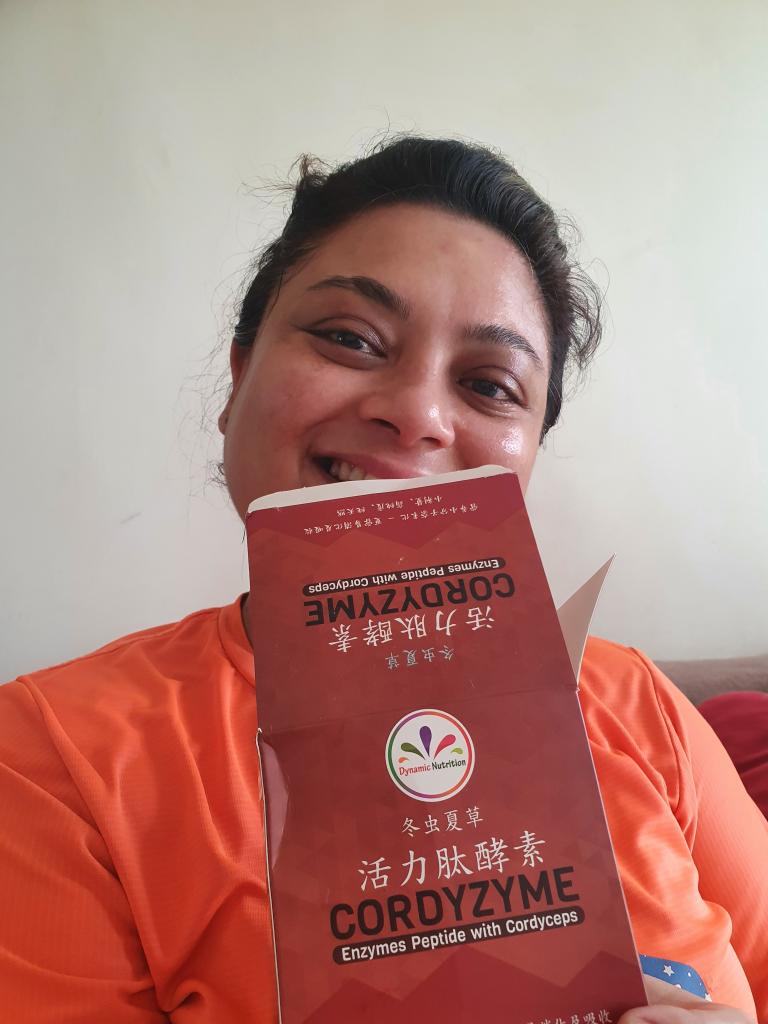 Dear Dynamic Nutrition,
Thanks for giving your customers this opportunity to buy with more value. Also thank you for my birthday code which I just used this morning.
I started with the collagen and never thought I would continue to rely so much on this one brand (and I am a member of so many). With time, your brand has come to prove its quality and effectiveness! And I find myself reaching out almost exclusively to Dynamic Nutrition for my needs. I, myself, am astounded.
The cordyceps with enzymes is the latest product I am using and I have gone on to buy the capsules as well. I had been hospitalised with a bout of bronchitis and read that cordyceps was good in promoting lung function, hence, my purchase.
No doubt enzymes are essential for the body and I can be rest assured with the quality backing of Dynamic Nutrition for CORDYZYME, enzymes peptide with Cordyceps, it would definitely contribute to my well being.
Wish you all the best and continue to be one of the top brands in the market. Take care and stay safe!
MaryAnn.