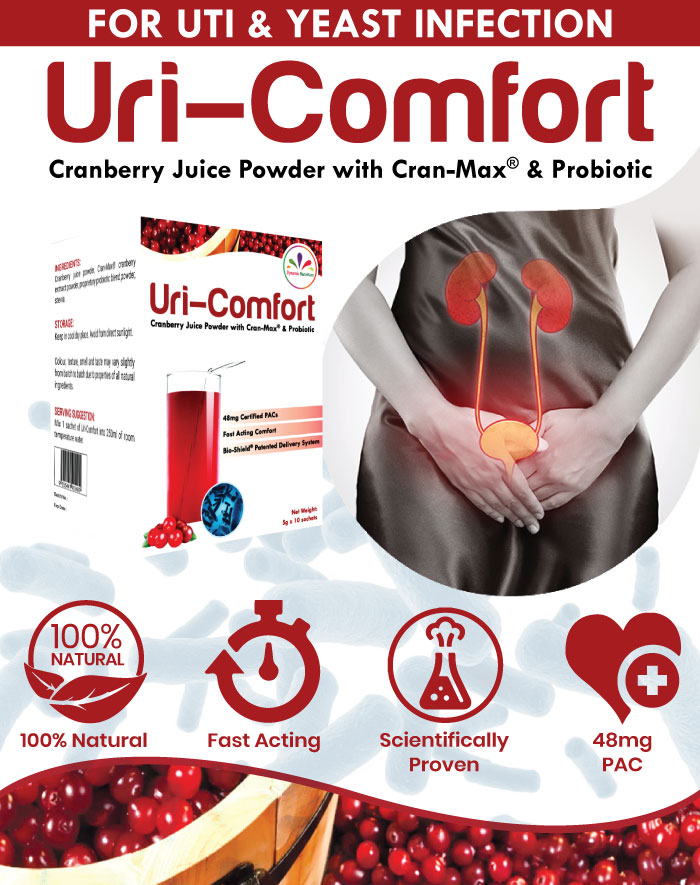 Uri-Comfort
Combination of cranberry (Cran-max®) & probiotics for UTI & yeast infection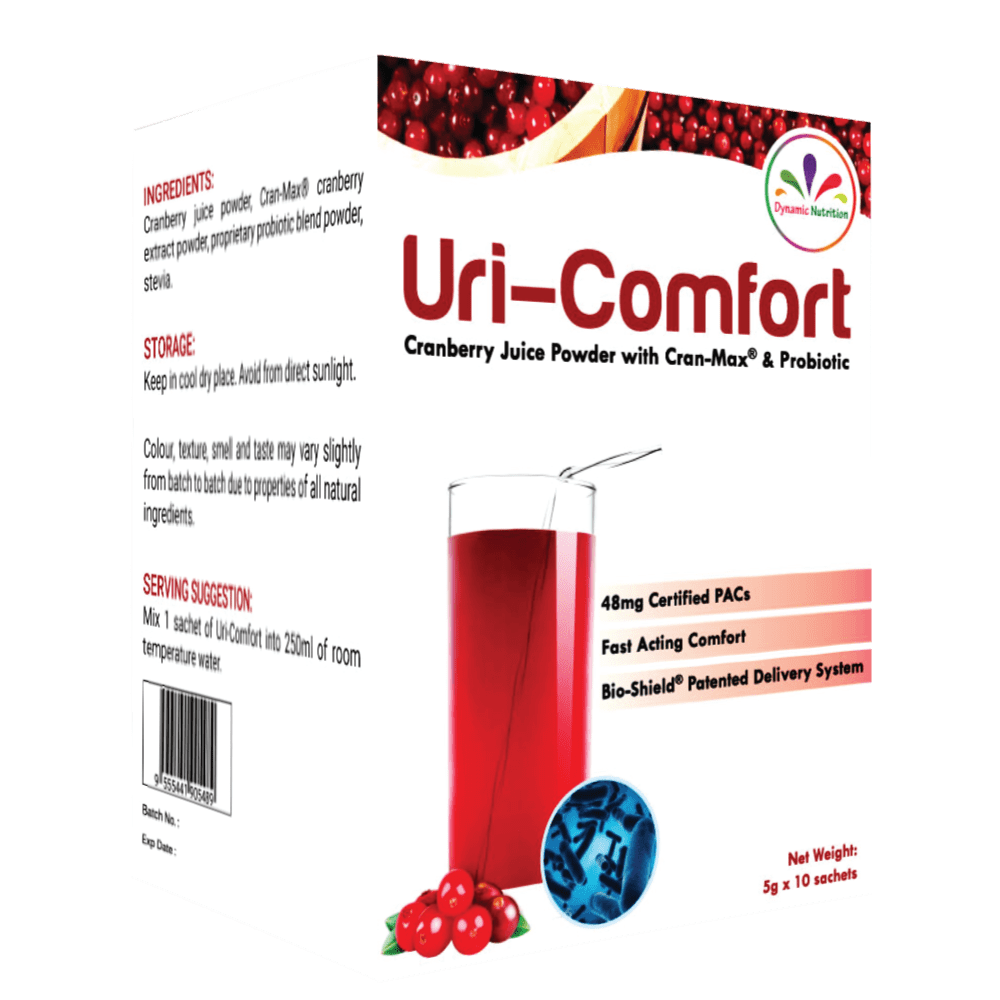 Fast Acting Comfort For UTI & Yeast Infection
Uri-Comfort combines cranberry and probiotics for urinary tract, yeast infection and women's private health. This innovative formulation works by reducing E. coli adhesion and inhibit bacteria growth in our urinary tract. It is 100% natural, acts fast in days only and is very convenient to use since only one sachet to dilute in water is needed.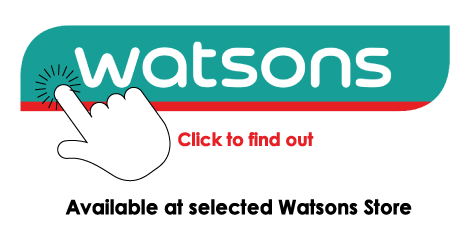 Advantages of Uri-Comfort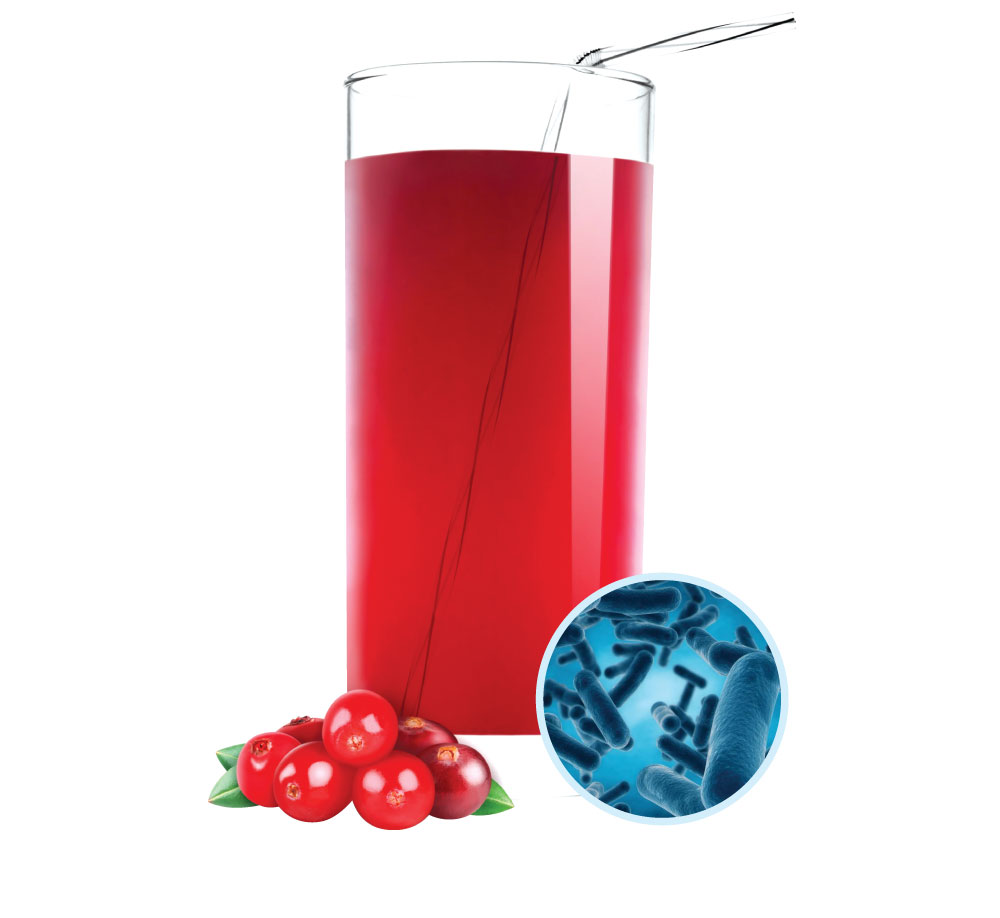 Scientifically Proven
Cran-Max® – the clinically proven cranberry extract
Patented
Cran-Max® has a patented delivery system called Bio-Shield®
Improves
Improves and maintains urinary tract health instead of just symptomatic relief
New Formula
48mg PACs combined with 6 strains of probiotics
100% Natural
100% natural with no added sodium, sugar or artificial sweetener.
Scientifically Proven
Cran-Max® – the clinically proven cranberry extract
Patented
Cran-Max® has a patented delivery system called Bio-Shield®
Improves
Improves and maintains urinary tract health instead of just symptomatic relief
New Formula
48mg PACs combined with 6 strains of probiotics
100% Natural
100% natural with no added sodium, sugar or artificial sweetener.
What is UTI

(Urinary Tract Infection)?
UTI is an infection in any part of the urinary tract. UTI is the second most common type of infection in the body. Women are four times more likely to get UTI than men. If you suffer from UTI, you are not alone. UTI is common especially in women, and most women experience recurrent bouts of infection.
As long as it is treated promptly and properly, UTI isn't a serious health threat. However, the painful feeling of passing shards of glass to the frequent toilet trips can affect your quality of life.
UTI develops when part of our urinary system is infected by bacteria. About 80% to 90% of UTI are caused by a type of bacteria called E. coli. These bacteria normally live in our intestines and are harmless, but they sometimes get into the urinary tract. Scientist has discovered that E. coli adhesion in our urinary tract is the first step in the formation of a UTI.
The acidic urine produced by bacterial infection may irritate your inflamed urethra, thus causing a burning sensation during urination – which can be painful and uncomfortable.
Millions of women suffer vaginal yeast infections every year. Yeast infection is caused by candida albicans which is usually present in our GI tract. Maintaining the correct pH in your gut is one of the most important things you can do to reduce yeast overgrowth.
The acidic environment in your stomach and intestines is hugely important – it's your first line of defense against pathogens that enter your digestive system. The candida yeast likes an alkaline environment, which is often brought about by a course of antibiotics which killed the acid-producing good bacteria in your stomach.
Symptoms Of UTI And Yeast Infection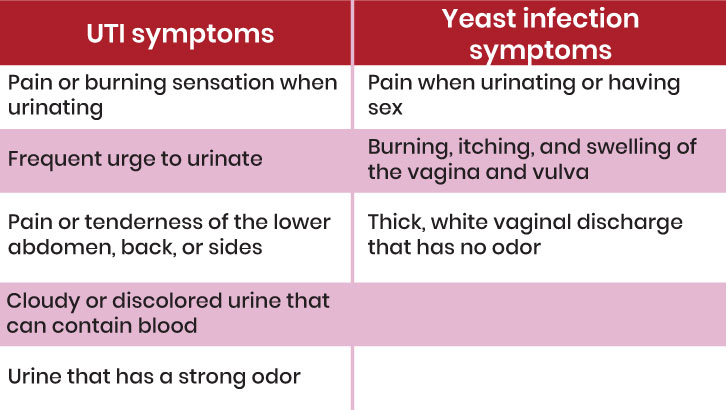 Cran-max® – The Clinically Proven Cranberry Extract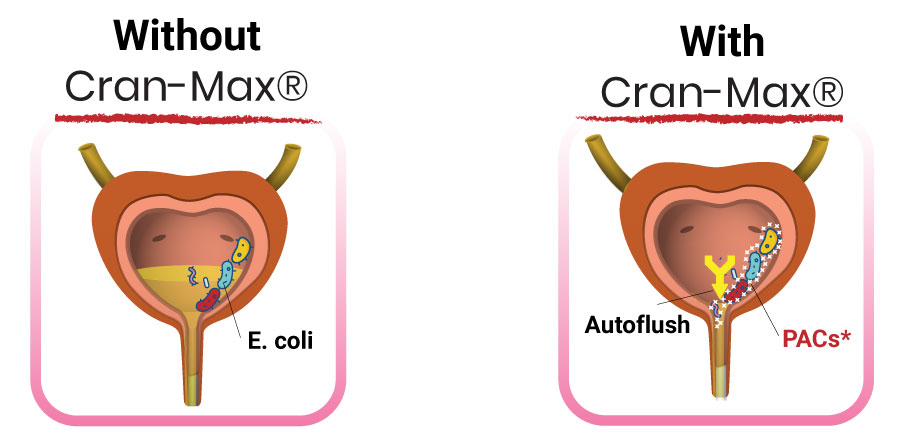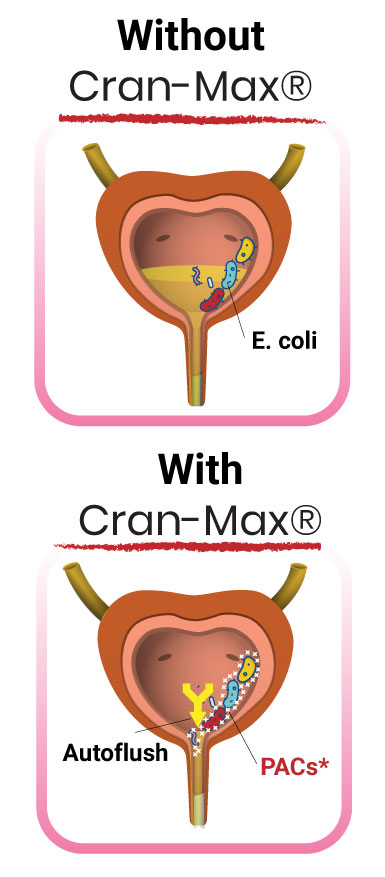 Cranberries contain highly active compounds called "A-type proanthocyanins" (PAC). These compounds have been shown in studies to produce an anti-adhesion response to bacteria, preventing them from adhering to cells. The bacteria can then be flushed from the body.
Cran-Max® cranberry concentrate is a whole-berry extract using cranberries grown in the USA. It uses all components of the cranberry, including skin, seeds, pulp, juice and fiber to deliver a highly concentrated form of cranberry.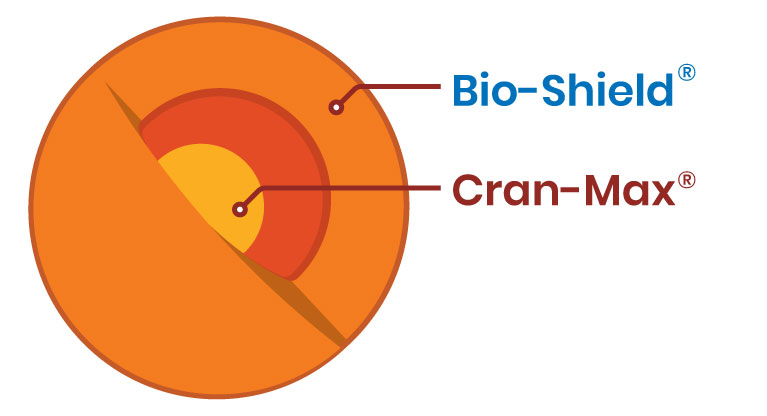 Cran-Max® has been clinically shown to help promote a healthy Urinary Tract. It is delivered by a unique, patented delivery system called Bio-Shield® Technology. Bio-Shield® Technology protects the Cran-Max® as it passes through the digestive system until it reaches the lower gastrointestinal tract where it can be better absorbed.
Cran-Max® has been the subject of numerous clinical studies that have demonstrated its safety and efficacy. Several published and unpublished studies show urinary tract health benefits from Cran-Max® supplementation, including the following published studies: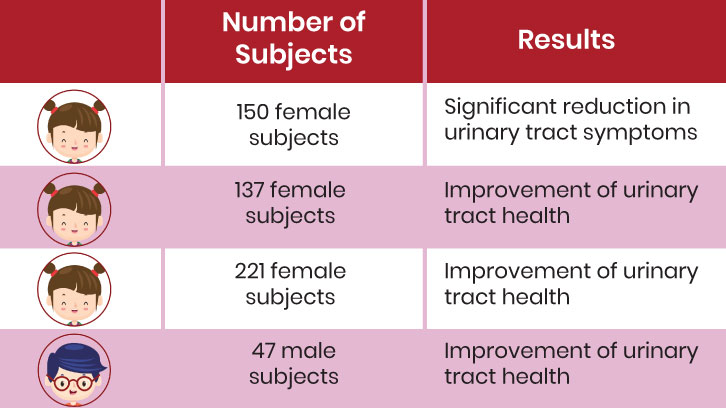 While cranberry juice is a well-known remedy for urinary tract and bladder infections, cranberry juice is also a good yeast fighter. When consumed regularly, it's said to prevent recurrent yeast infections.
Is drinking

cranberry juice

just the same?
Not really. There is an active ingredient in cranberries that can prevent adherence of bacteria to the bladder wall, particularly E. coli which results in UTI. But most of the studies have shown that cranberry juice alone don't have enough of this active ingredient, A-type proanthocyanidins (PACs), to prevent bacteria from sticking to the urinary tract.
Studies have shown that taking 48 mg of PACs daily together with probiotics reduces recurrence of UTI by inhibiting bacteria growth.
Evidence

of Probiotic Benefits
Scientific research has found multi-strains working together show greater efficacy than single strain. These strains are clinically proven to repopulate the urinary tract and hence help to keep urinary tract infections at bay. The synergistic effect of combining Cran-Max® with specially selected probiotic strains blocks the pathogenic effects of many common UTI causing bacteria.
The ability of probiotic interventions in the management of UTIs has long been considered and is now supported by increasing clinical evidence for a growing number of specific strains. There is a close correlation between the loss of the normal genital microbiota, particularly Lactobacillus species, and an increased incidence of UTIs, therefore suggesting that repletion may be beneficial.
It maintains the balance between beneficial and harmful microorganisms found in our digestive tract. It is essential for a healthy functioning digestive system.
Probiotic Strains

shown to benefit

UTI health
A recent review in Canada suggested that the mechanisms whereby certain probiotic lactobacilli improve UTI health include immune modulation, reduction in pathogen ascension from the rectum, and interference with colonisation and survival of pathogens. Lactobacillus plantarum and Lactobacillus rhamnosus were shown in vitro to inhibit the adherence of E. coli to the GI tract wall by inducing the production of mucin (a sticky substance coating the epithelial cells known to inhibit the adhesion of pathogens). A 2011 in vitro study at Reading University also showed two probiotics strains, Lactobacillus acidophilus and Lactobacillus plantarum, to have good anti-bacterial effects in inhibiting E. coli growth.
A randomised, double-blind, placebo-controlled trial (RCT) in 2006 showed an oral Lactobacillus rhamnosus and Lactobacillus reuteri was able to recover vaginal counts of Lactobacillus species following antibiotics and infection by 96% compared to 53% in controls.
Probiotics

For Yeast Infection And Women's Private Health
Yeast infections happen when there's an overgrowth of fungus called Candida. There are many different strains of Candida, but Candida albicans is the most common cause of vaginal yeast infections. Candida is part of our normal microbiota, but sometimes it grows a little too much. This disrupts your usual microbiota balance, causing a yeast infection.
Taking multi-strains of Lactobacillus quickly re-populates your intestines with good bacteria and produces lactic and acetic acids which helps to rebalance the pH in your intestine and restore the acidity that is needed to curb the yeast overgrowth.
Combination of multi-strains probiotics can regulate the intestinal and vaginal microecological balance: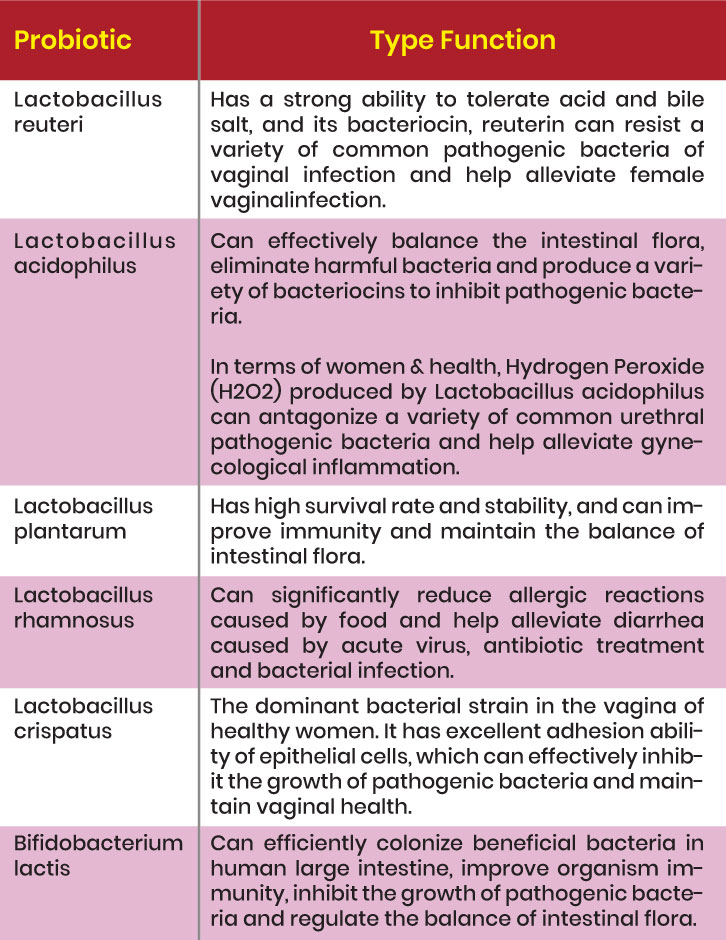 INGREDIENTS:
Cranberry juice powder, Cran-Max® cranberry extract powder, proprietary probiotic blend powder, stevia.
STORAGE:
Keep in cool dry place. Avoid from direct sunlight.
Colour, texture, smell and taste may vary slightly from batch to batch due to properties of all natural ingredients.
SERVING SUGGESTION:
Mix 1 sachet of Uri-Comfort into 250ml of room temperature water.
Cran-Max® and Bio-Shield® are registered trademarks of Pharmachem Laboratories LLC.