Men's waistline is as standard as women's. The World Health Organization limits the waistline of a man must not be greater than 90 cm, or 2 feet 7 inches, and if it is greater than this number, he is required to lose weight. Paunchy man is everywhere in the street. So, how is beer belly formed?
The reasons for Beer Belly Formation
1. Fat Accumulation
Medical scientists have confirmed through research, there are three reasons for the formation of "beer belly": fat accumulation, bloating and ascites. Bloating and ascites are pathological changes that should be prompt to the hospital for examination and treatment, and fat accumulation is mostly due to improper diet or lack of physical training caused. Uncontrolled eating high fat, high-calorie foods and lack of exercise are the real cause of "beer belly."
2. Excessive Beer
From a calorie point of view, a bottle of beer produces the equivalent of eating two eggs. Experts said "beer belly" is not directly related to drinking beer. However, due to the low degree of beer alcohol, many people do not drink beer as a beer, but as a beverage, the immediate consequence is that they accidentally drank too much beer. Once you consume more calories than one person consumes, the excess calories can be converted into fat stockpiles, causing obesity. When drinking beer with a high-fat high-calories side dish is the culprit leading to obesity. Most people drink beer, usually accompanied by fried, barbecue kind of food. But these foods are poor satiety, high-fat content, it is easy to eat more, leading to excessive intake of calories, which in turn cause obesity.
3. Excessive Pressure
With some obvious reasons presumably, the pressure can be described as an invisible killer, often been ignored in the process of weight loss. But you know, easy to cause overeating, poor quality of sleep and other issues, often caused by the pressure too! Coupled with an irregular schedule has been sustained, the autonomic nervous system will be unbalanced, the more difficult to burn fat, breathing shallow, will even affect the blood circulation around the waist!
4. Used to Hump Back
Sitting, standing, walking posture if not correct, it is easy to a humpback. Bow back make you feel very comfortable, but if do not pay attention, it will cause a lot of problems! When we bow back, the lower abdomen will relax, buttocks drooping, bodyweight centre of gravity shift, the pelvis will become skewed, leading to muscle imbalance, lower abdomen prominent.
5. Sedentariness
Sitting for a long time, thighs and groin and other parts will be oppressed, blood and lymphatic flow, abdominal excess water will stay, unable to rule out, causing edema. On the other hand, it is also prone to chills. In order to avoid visceral colds, the body will autonomously store fat, which further disrupts the blood circulation and makes it more and more difficult for the fat to be burnt.
6. Constipation
Constipation is also a common problem for modern people. Mostly due to lack of exercise, inadequate dietary fibre, lead to intestinal toxins, waste accumulation and obstruction, unable to be discharged, and the lower abdomen is easy to bulge up. Once the abdominal muscles weaken, the position of the intestine will shift, resulting in low intestinal peristalsis, easily cause accumulation of fat, and then the abdomen appear cold, further deterioration of intestinal peristalsis ability. This is a vicious circle!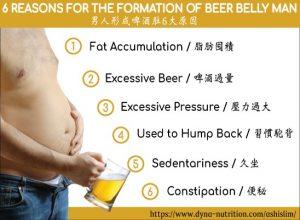 The danger of beer belly
Abdominal obesity is one of the major factors that accelerate ageing. At present, more than 15 kinds of diseases that cause death are directly related to abdominal obesity, including coronary heart disease, myocardial infarction, cerebral embolism, breast cancer, liver and kidney failure, and so on. Previously, studies have shown that men with "beer belly" are 8 times more likely to have high blood pressure than normal men, 5 times more likely to have coronary heart disease, 7 times more likely to get diabetes, Diseases such as infarction are also common in beer belly males.
Facebook Comments