Metabolism Syndrome
Metabolic syndrome is a collection of cardiovascular disease risk factors that increase your chance of developing heart disease, stroke, and diabetes. It is also known as Syndrome X, insulin resistance syndrome, and dysmetabolic syndrome.
Approximately 20%-30% of the population in industrialized countries has metabolic syndrome.
Causes of Metabolism Syndrome
Metabolic syndrome is closely linked to overweight or obesity and inactivity.
It is also linked to a condition called insulin resistance. Insulin is a hormone made by the pancreas. It helps the body use glucose which a form of sugar for energy. If a person has insulin resistance, his or her body is not converting glucose for use by muscles and other tissues. As a result, glucose levels in your blood rise despite your body's attempt to control the glucose by churning out more and more insulin.
How to Diagnose Metabolic Syndrome?
Metabolic syndrome occurs if you have 3 or more of the following:
A waistline of 40 inches or more for men and 35 inches or more for women.
A blood pressure of 130/85 mm Hg or higher.
A triglyceride level above 150 mg/dl.
A fasting blood glucose (sugar) level greater than 100 mg/dl.
A high density lipoprotein level (HDL) less than 40 mg/dl (men) or under 50 mg/dl (women).
Dangers of Metabolic Syndrome
Metabolic syndrome is a condition that can lead to both diabetes and heart disease, two of the most common chronic diseases today.
Diabetes. If you don't make lifestyle changes to control your excess weight, which can lead to insulin resistance, your glucose levels will continue to increase. You then might develop diabetes.
Cardiovascular disease. High cholesterol and high blood pressure can contribute to the buildup of plaques in your arteries. These plaques can narrow and harden your arteries, which can lead to a heart attack or stroke.
Other health risks from metabolic syndrome include fat accumulation in the liver (fatty liver), resulting in inflammation and the potential for cirrhosis. The kidneys can also be affected, as metabolic syndrome is associated with microalbuminuria, the leaking of protein into the urine, a subtle but clear indication of kidney damage. The syndrome can also cause obstructive sleep apnea, polycystic ovary syndrome, increased risk of dementia with aging, and cognitive decline in older adults.
Natural Remedies for Metabolic Syndrome
A lifelong commitment to a healthy lifestyle is usually required to prevent serious health problems, such as diabetes and heart disease. This includes:
Exercise

Doctors recommend getting 30 or more minutes of moderate-intensity exercises, such as brisk walking, daily. Look for ways to increase activity, such as walking instead of driving and using stairs instead of elevators when possible.
Losing weight

Weight loss and maintaining a healthy weight can reduce insulin resistance and blood pressure and decrease your risk of diabetes.
Eating healthfully

Maintain a diet that keeps carbohydrates to no more than 50% of total calories. Eat foods defined as complex carbohydrates instead of refined foods. Increase your fiber consumption by eating legumes, whole grains, fruits, and vegetables. Reduce your intake of red meats and poultry. 30% of your daily calories should come from fat. Consume healthy fats such as those in canola oil, olive oil, flaxseed oil, and nuts.
Stopping smoking

Smoking cigarettes worsen the health consequences of metabolic syndrome.
Managing stress

Physical activity, meditation, yoga, and other programs can help you handle stress and improve your emotional and physical health.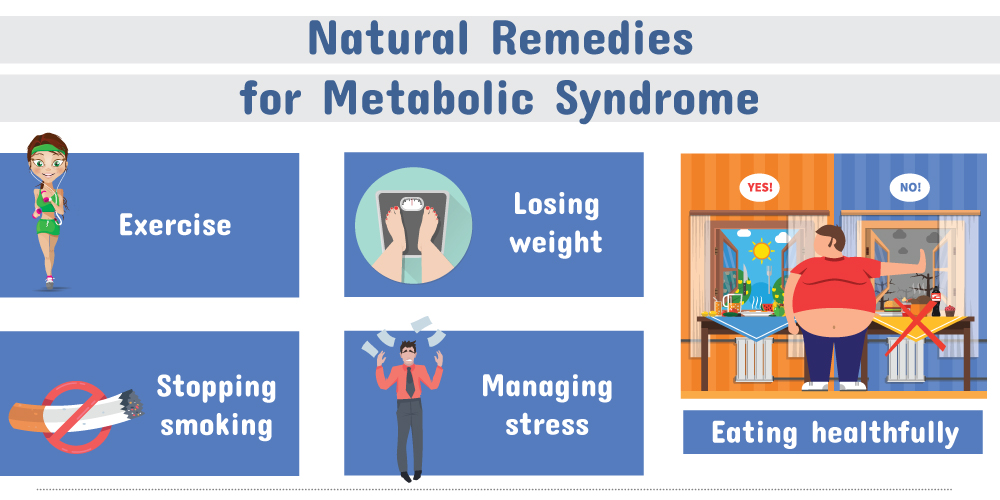 Products you may interested in
Facebook Comments