What is Prediabetes?
Prediabetes is a condition defined as having blood glucose levels above normal but below the defined threshold of diabetes. It's considered to be an at-risk state, with high chances of developing diabetes. Without intervention, people with prediabetes are likely to become type 2 diabetics within 10 years. For people with prediabetes, the long-term damage to the heart and circulatory system that is associated with diabetes may have started already.
Type 2 Diabetes
If you have diabetes, your blood sugar levels are too high. With type 2 diabetes, this happens because your body does not make enough insulin, or it does not use insulin well (this is called insulin resistance). If you are at risk for type 2 diabetes, you might be able to prevent or delay developing it.
Ways to Prevent Diabetes
If you are at risk for diabetes, you may be able to prevent or delay getting it. Most of the things that you need to do involve having a healthier lifestyle. So if you make these changes, you will get other health benefits as well. You may lower your risk of other diseases, and you will probably feel better and have more energy.
There are some natural ways to prevent diabetes as below:
Cut Sugar and Refined Carbs From Your Diet
Eating sugary foods and refined carbs can put at-risk individuals on the fast track to developing diabetes.
Your body rapidly breaks these foods down into small sugar molecules, which are absorbed into your bloodstream.
The resulting rise in blood sugar stimulates your pancreas to produce insulin, a hormone that helps sugar get out of the bloodstream and into your body's cells.
In people with prediabetes, the body's cells are resistant to insulin's action, so sugar remains high in the blood. To compensate, the pancreas produces more insulin, attempting to bring blood sugar down to a healthy level.
Over time, this can lead to progressively higher blood sugar and insulin levels, until the condition eventually turns into type 2 diabetes.
Work Out Regularly
Performing physical activity on a regular basis may help prevent diabetes.
Exercise increases the insulin sensitivity of your cells. So when you exercise, less insulin is required to keep your blood sugar levels under control.
One study in people with prediabetes found that moderate-intensity exercise increased insulin sensitivity by 51% and high-intensity exercise increased it by 85%. However, this effect only occurred on workout days.
Drink Water as Your Primary Beverage
Water is by far the most natural beverage you can drink.
What's more, sticking with water most of the time helps you avoid beverages that are high in sugar, preservatives and other questionable ingredients.
Sugary beverages like soda and punch have been linked to an increased risk of both type 2 diabetes and latent autoimmune diabetes of adults (LADA).
LADA is a form of type 1 diabetes that occurs in people over 18 years of age. Unlike the acute symptoms seen with type 1 diabetes in childhood, LADA develops slowly, requiring more treatment as the disease progresses.
One 24-week study showed that overweight adults who replaced diet sodas with water while following a weight loss program experienced a decrease in insulin resistance and lower fasting blood sugar and insulin levels.
Quit Smoking
Smoking is strongly linked to the risk of diabetes, especially in heavy smokers. Quitting has been shown to reduce this risk over time.
Avoid Sedentary Behaviors
It's important to avoid being sedentary if you want to prevent diabetes.
If you get no or very little physical activity, and you sit during most of your day, then you lead a sedentary lifestyle.
Observational studies have shown a consistent link between sedentary behavior and the risk of diabetes.
A large analysis of 47 studies found that people who spent the highest amount of time per day engaged in sedentary behavior had a 91% increased risk of developing diabetes.
Eat a High-Fiber Diet
Getting plenty of fiber is beneficial for gut health and weight management.
Studies in obese, elderly and prediabetic individuals have shown that it helps keep blood sugar and insulin levels low.
Fiber can be divided into two broad categories: soluble and insoluble. Soluble fiber absorbs water, whereas insoluble fiber does not.
In the digestive tract, soluble fiber and water form a gel that slows down the rate at which food is absorbed. This leads to a more gradual rise in blood sugar levels.
However, insoluble fiber has also been linked to reductions in blood sugar levels and a decreased risk of diabetes, although exactly how it works is not clear.
Consuming a good fiber source at each meal can help prevent spikes in blood sugar and insulin levels, which may help reduce your risk of developing diabetes.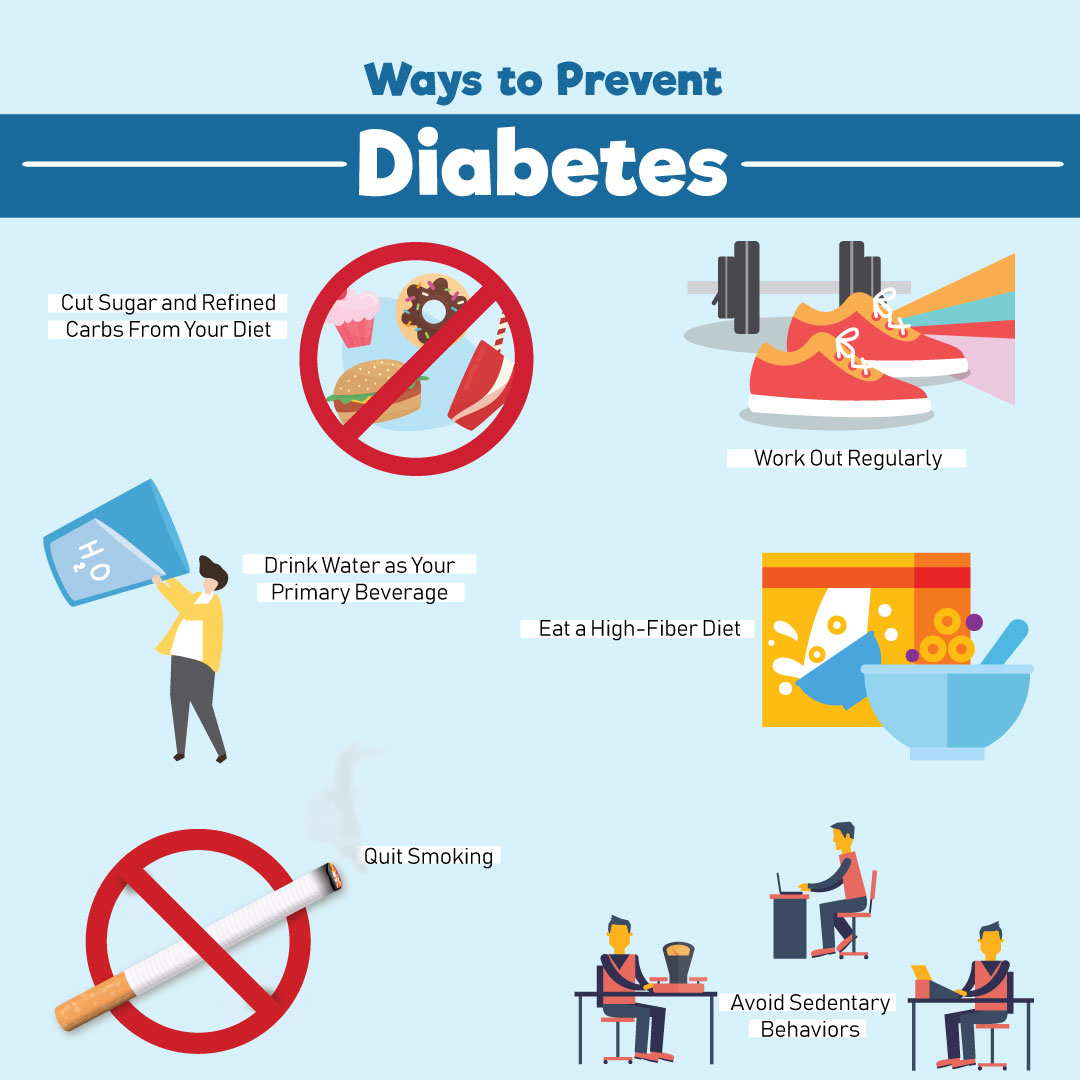 Products you may interested in
Facebook Comments