What does your shit tell you? Shit is also known as stool or faeces, is the waste material passed out from the bowels through the anus. It may include undigested food particles, bacteria, salts, and other substances.
How to Scale the Faeces?
According to the Bristol Stool Chart, there are seven types of faeces. The Bristol Stool Chart is a medical aid designed to classify faeces into seven groups. This is devised by doctors in the Bristol Royal Infirmary, England, and based on the bowel movement of nearly 2,000 people. The Bristol Stool Chart characterizes the different types of faeces as below.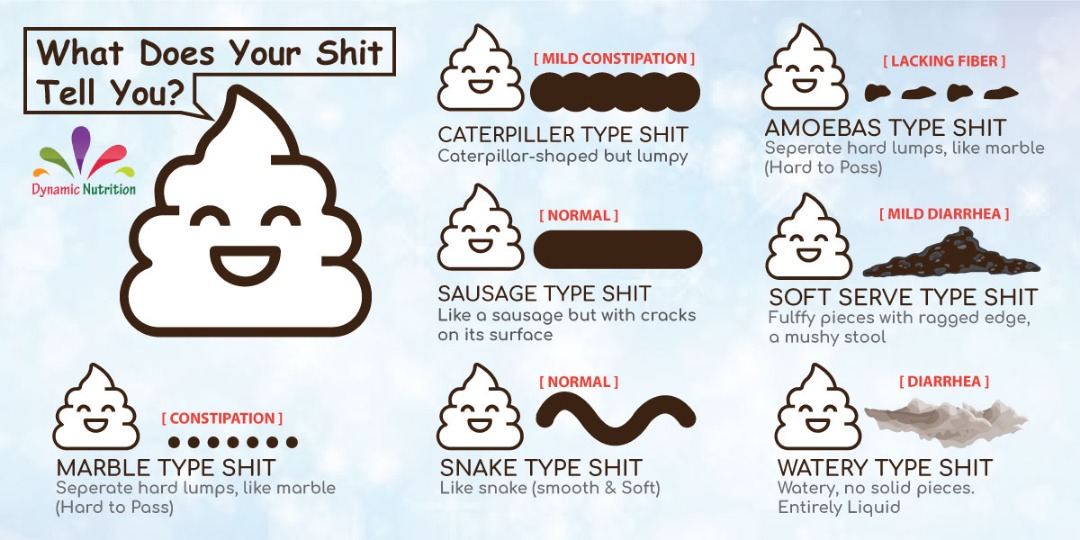 Marble and Caterpillar Types indicate constipation, Hot Dogs and Snakes Types indicate normal stool, while Amoebas, Soft Serve and Watery Types indicate diarrhea and urgency.
1. Marble Type – Constipation
Appearance: Hard and separate little lumps that look like nuts and are hard to pass.
2. Caterpillar Type – Mild Constipation
Appearance: Log-shaped but lumpy.
3. Sausage Type – Normal
Appearance: Like a sausage with some cracks on the surface.
4. Snake Type – Normal
Appearance: Smooth and snake-like.
5. Amoeba Type – Lack Fiber
Appearance: These are small, like the first ones, but soft and easy to pass. The blobs also have clear-cut edges.
6. Soft Serve Type – Mild Diarrhea
Appearance: Fluffy and mushy with ragged edges.
7. Watery Type – Diarrhea
Appearance: Completely watery with no solid pieces.
Good Bowel Function for Adults
There is more to good bowel function than just being regular.
For example, you should be able to:
hold on for a short time after you feel like want to poo
This allows time to get there and remove clothing without any accidental loss of faeces.
pass a bowel movement within a minute of sitting down on the toilet
pass a bowel motion easily and without pain
completely empty your bowel when you pass a motion
Good Bowel Function for Children
Children usually develop the ability to be toilet trained by about three years old. "Soiling" is when the bowels are emptied in places other than the toilet. Even after a child is a toilet trained, there may be occasional accidents with soiling (poo) in your child's underwear.
If a child is unable to be toilet trained or has regular poo accidents after the age of three to four years, then they should be medically assessed. If a child has been toilet trained and at a later stage starts to soil, this also needs medical assessment.
Why do Children Soil?
Most of the soiling cases happen because the large bowel is not emptying properly and the child is constipated. Constipation is very common and occurs among 25% of children. If not recognize and treat the issue, bowel actions may become harder and less frequent. Over time, stretching of the bowel makes it less sensitive, so the child may not feel when faeces need to come out and therefore has an accident. It is possible that there are hard faeces inside the bowel, but the soiling is soft runny faeces leaking around the hard mass, so you do not realize that constipation is the underlying problem.
Click here for the easy solution!
Products you may be interested in
Facebook Comments