Many families nowadays have busy schedules, so as their children. This makes their diets involve unhealthy food which is convenience and takeout food. Those foods can have a negative effect on children's health in a long-term way. Poor nutrition affected the quality of children life and their potential to benefit from education. Obtaining sufficient nutrition will ensure them to grow to their full potential and provide the stepping stones to a healthy life.
Sufficient nutrition brings many benefits to children which include:
Improve energy
Stabilize minds and moods
Maintain a healthy weight
Prevent mental health such as depression, anxiety, and ADHD
There are six main nutrients that are essential for children
1. Protein
• Function: Builds muscles and body tissues.
• Sources: Meats, seafood, beans, nuts and dairy foods
Function: Build strong bones and teeth
Sources: Multi-grains, dairy products, and soy products
Function: Boost up the immune system, promotes healing from cuts and scrapes
Sources: Fresh fruits and vegetables
Function: Make red blood cells to carry oxygen in the body.
Sources: Red meat, beans, green leafy vegetables
5. Vitamin D
Function: Builds strong and healthy bones.
Sources: Some dairy products, cereal, egg, natural sunlight but not too much
6. Good Fats
Function: Help brain and nerve growth, metabolism and absorption of vitamins.
Sources: Breastmilk for infants, vegetable oils, salmon, flaxseed, chia seed, walnuts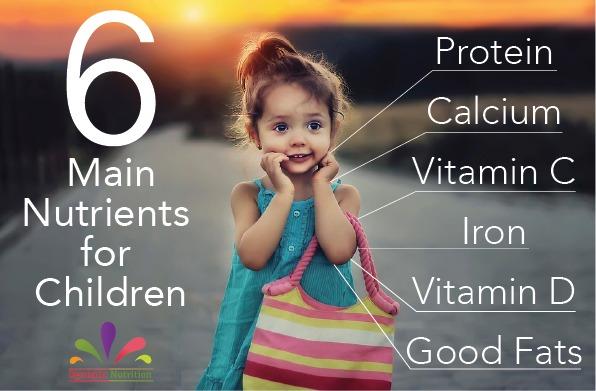 Attaining optimal nutrition involves eating three meals a day and two nutritious snacks, as well as limiting the intake of high sugar and high-fat foods. Consume generous amounts of fruits, vegetables, lean meats and low-fat dairy products. Getting sufficient nutrition is always important especially for children. This is because this is the crucial years for their greatest growth and development occur.
Products you may interested in
Facebook Comments