The Chinese first used red yeast rice in the Tang Dynasty in 800 A.D. as an aid for stomach ailments and poor blood circulation and to improve spleen health. But today, red yeast rice supplements are most commonly advertised for lowering cholesterol naturally. It's important, however, to know about red yeast rice side effects that could be potentially dangerous to your health.
What Is Red Yeast Rice?
Red yeast rice is the product of a yeast, Monascus purpureus, grown on rice. The active ingredient in these supplements is called monacolins. One of these, "monacolin K," works by inhibiting the liver enzyme called HMG Co-A reductase, thus reducing the liver's ability to make cholesterol. Monacolin K is also the active pharmaceutical ingredient in the cholesterol-lowering statin drugs known as lovastatin or mevinolin (Mevacor, a drug produced by Merck & Co. Inc).
In fact, lovastatin was originally derived from another type of red yeast called Monascus ruber and it was the first statin drug to be approved by the U.S. Food and Drug Administration. Although red yeast rice is classified as a dietary supplement by the FDA, because of its similarity to the statin drugs, there is an ongoing legal debate about whether red yeast rice should be reclassified as a prescription drug rather than a dietary supplement.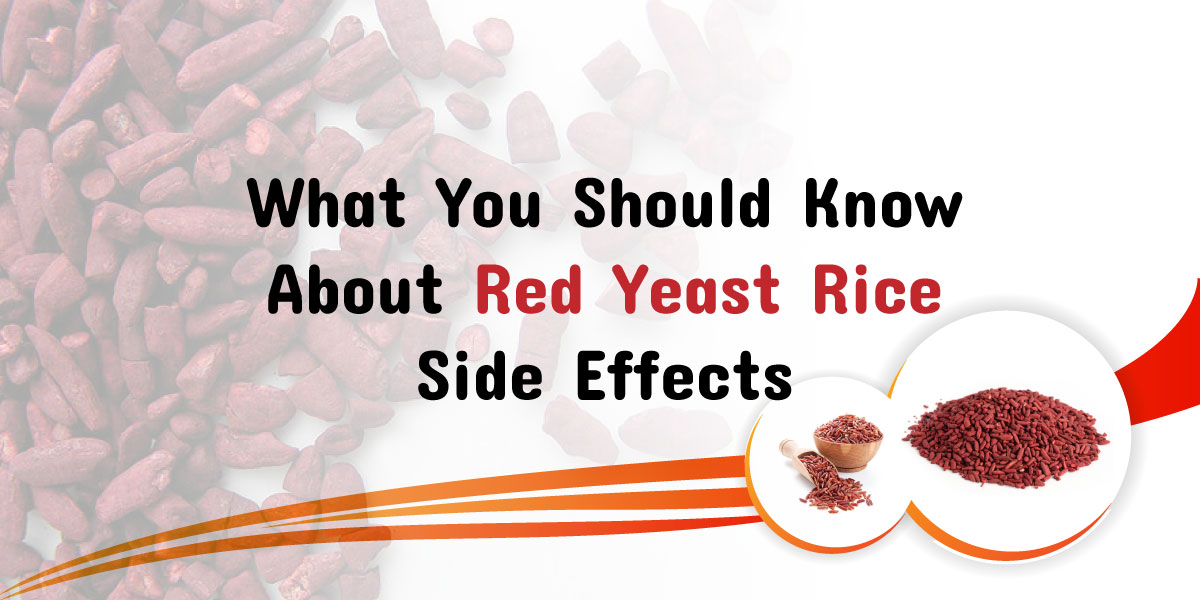 Red Yeast Rice Side Effects
Red yeast rice side effects are similar to statin drug side effects.
Since they're so closely related, the potentially serious and debilitating statin drug side effects are also the same as those for red yeast rice and monacolin k side effects: stomach pain, severe muscle pain and damage, liver damage, and kidney failure.
The use of red yeast rice, however, is particularly troublesome because of the uncertainty regarding how much active drug any particular batch of red yeast rice contains.
The U.S. Food and Drug Administration (FDA) has determined that red yeast rice products that contain more than trace amounts of monacolin K are unapproved new drugs and cannot be sold legally as dietary supplements.
https://www.in.gov/health/food-protection/recalls-and-advisories/2007-advisories/red-yeast-rice-products/

These red yeast rice products are a threat to health because the possibility exists that lovastatin can cause severe muscle problems leading to kidney impairment. This risk is greater in patients who take higher doses of lovastatin or who take lovastatin and other medicines that increase the risk of muscle adverse reactions.

https://www.mountsinai.org/health-library/supplement/red-yeast-rice

Statins can lower the amount of CoQ10 in the body. CoQ10 is very important in heart and muscle health and in energy production. Not having enough CoQ10 can cause fatigue, muscle aches and pains, and muscle damage. Red yeast rice also may lower amounts of CoQ10 in the body. Ask your doctor if you need to take CoQ10 while you are taking red yeast rice products.

Because it acts like a statin, red yeast rice may pose the same potential risk of liver damage that statins do, when combined with other prescription medications that also affect the liver.
Side Effects of Taking Red Yeast Rice Induced by Toxic By-Product
As if taking a hidden pharmaceutical drug were not bad enough, there's another insidious ingredient lurking in red yeast rice called citrinin.
So what is citrinin? Citrinin in red yeast rice is a mycotoxin—a toxic by-product emitted from fungus (yeast). Mycotoxins literally mean "fungal + poison" and are considered very hazardous contaminants. In fact, some mycotoxins are so toxic, they have been utilized as chemical warfare agents.
The mycotoxin citrinin was first isolated from Penicillium citrinum before World War II. It is produced by more than 10 kinds of fungi, including the Monascus purpureus red rice yeast, and is possibly spread all over the world in other cereal grains including corn, wheat, barley, and rye.
Citrinin side effects include mild liver damage in the form of fatty infiltration. Other health effects include vasodilation (dilation of blood vessels), constriction of the bronchi (air passage to the lungs) and muscle damage.
Citrinin often co-occurs with another mycotoxin called ochratoxin-A. Both of these toxins have been linked to nephropathy (a disease of the kidneys) in animals. However, research also demonstrates that citrinin and ochratoxin-A are implicated in fatal human kidney disease. Citrinin is also embryocidal and fetotoxic, so red yeast rice is especially dangerous for consumption by pregnant women.
How to Avoid Side Effects from Red Yeast Rice
The best way to avoid the red yeast rice side effects is to avoid taking the supplement altogether. Too many other good alternatives for lowering high cholesterol exist that don't carry all the baggage of red yeast rice.
Source:
1. University Health News
2. https://nccih.nih.gov/health/redyeastrice
Products you may be interested in
Facebook Comments