Visceral Fat 
So what's visceral fat? It's not the fat that jiggles when you dance. And it's not the stuff that spill over the waistband of your skinny jeans, or "pinching and inch" at your waistline.
It is the most dangerous fat in your body that lies deep within your abdomen, beneath the skin, behind the subcutaneous fat (the fat you can notice on your waist, hips, thighs, etc.). The more you weigh, the more visceral fat you are likely to have.
While it is not benign, visceral fat is vicious. Medical experts now discover that this deep belly fat is strongly associated with diabetes and pre-diabetes, as well as metabolic syndrome, a common and often overlooked condition that leads to both. It also contributes to high blood pressure, heart diseases, strokes and even dementia and some forms of cancer.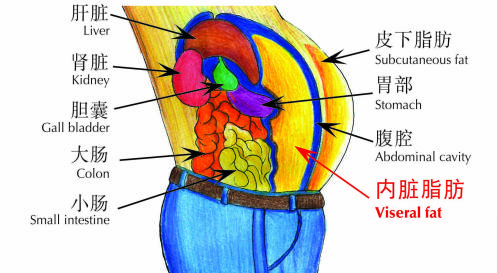 The Toxic Chemical Factory
Because it lies deep inside, it occupies some prime real estate within your abdomen. Visceral fat resides right beside the organs that keep you alive and maintain your blood sugar on a healthy level, affecting the important functions of these organs.
Visceral fats churns out dozens of deadly chemicals and hormones that interfere with the healthy functioning of your liver, heart, pancreas, blood vessels, muscle cells and even the brain.
Inflammatory compounds. Visceral fat produces chemicals such as tumor necrosis factor and interleukin-6. These compounds raise levels of chronic inflammation in your body. Chronic inflammation is intimately connected with insulin resistance – the glitch that leads to metabolic syndrome, prediabetes and diabetes. When cells are insulin resistant, they disobey signals from the hormone insulin to absorb blood sugar. Inflammation also increases the risk for heart diseases, the No.1 killer of people with diabetes, prediabetes and metabolic syndrome.
Free fatty acid. These blood fats stream out of visceral fat like gravy pouring out from a pitcher and their first stop is your liver. A fatty liver pumps out extra blood sugar and makes cells throughout your body more resistant to insulin.
In the long run, it churns out more LDL cholesterol and triglycerides (another blood fat) which raises your risk of heart diseases. A fatty liver is shockingly common – it is estimated that about 20-30 percent of adults have dangerous levels of liver fats.
Hormones. New research that a hunger-triggering hormone called neuropeptide-Y (NPY) is produced by visceral fat. This could mean that extra visceral fat makes you hungrier and sets up a nasty cycle: hunger, overeating, more visceral fat, more hunger, more overeating…
Insulin – Blood Sugar – Belly Fat  
What does all this mean for you? In short, living for years with excess visceral fat means worsening insulin resistance and a weakening of your body's ability to release insulin. Eventually, blood sugar levels begin to rise into the prediabetic range.
In the long run, carrying fat in your torsos boosts the odds for developing type 2 diabetes significantly –  even if you are not overweight. Plenty of studies have found a strong connection between this deep belly fat and type 2 diabetes. Researchers found that a big waistline, 35" for women and 40" for men, raised the risk for developing diabetes 10 times higher than normal people who are not overweight and 5 times higher than those who are.
If you already have type 2 diabetes, visceral fat makes controlling it more difficult. In an Italian study of people with type 2 diabetes, those with visceral fat were five times more insulin resistant than those with the least visceral fat. As a result their blood sugar was 2 – 3 times higher.
Products you may be interested in
Facebook Comments