Prebiotics and Probiotics sound similar, however, their roles are totally different in the digestive system.
Prebiotics are special. Prebiotic fiber goes through the small intestine undigested and fermented when it reaches the large colon. This fermentation process feeds beneficial bacteria colonies (including probiotic bacteria) and helps to increase the number of good bacteria in digestive systems that are associated with better health and reduced disease risk. The examples of foods rich in prebiotics are Chicory root, onions, garlic, oatmeal, bananas and others.  
Probiotics are live beneficial bacteria that are naturally created by the process of fermentation in foods like yogurt, sauerkraut, miso soup, kimchi, and others. Probiotics can be purchased as a food-grade health supplement. They normally in powder or liquid form.  
Benefits of Prebiotics and Probiotics
Prebiotics are helpful in increasing the beneficial bacteria in the digestive system. According to Florowska's report in 2016, prebiotic fiber is not as fragile as probiotic bacteria because it is not affected by heat, stomach acid, or time. The increasing of prebiotics intake supports immunity, digestive health, bone density, regularity, weight management, and brain health.
The beneficial effects of probiotics have been widely demonstrated. Below here are the benefits of probiotics:
Treat diarrhea, especially after taking certain antibiotics
Treat irritable bowel syndrome
Speed treatment of certain intestinal infections
Prevent or reduce the severity of colds and flu
Ease allergic disorders such as eczema and hay fever
Do we still need to take supplements since we can get the prebiotics and probiotics from natural foods?
It is very important to nourish a healthy bacterial mix in the colon. If we could practice healthy diet and eat 5-8 servings of fruits and vegetables per day, then we may get enough prebiotics.
However, modern diet nowadays includes processed foods and high amounts of sugar and synthetic ingredients that will eventually affect prebiotics and probiotics intake. Therefore, adding supplements into the daily diet may maintain and even boost up our health.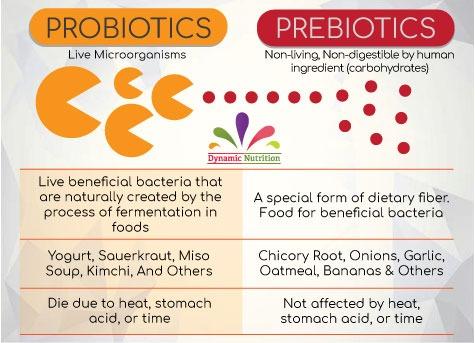 Products you may be interested in
Facebook Comments